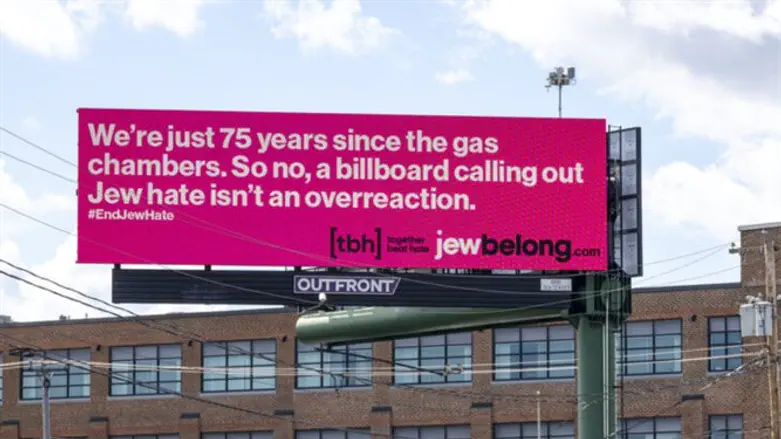 Pink Billboard 1
Jewish Boston
The online nonprofit JewBelong has partnered with The Kraft Group to bring JewBelong's newest venture to Boston—billboards that bring antisemitism to bright pink attention. Bright pink is a primary color in the organization's palette, frequently showing up in many of its marketing materials.
Marketing wizards Archie Gottesman and Stacy Stuart initially deployed their genius in branding the iconic Manhattan Mini Storage billboards before founding JewBelong five years ago. As a result, the nonprofit consistently delivers on its unique portmanteau, promising everyone who visits the site a comfortable way to participate in Jewish life. "We don't care which half of you is Jewish" is a signature message.
Now JewBelong is turning its attention to combating antisemitism across the United States, including Boston, with The Kraft Group's support. The Kraft Group includes the Foundation to Combat Anti-Semitism and Together Beat Hate. The Foundation to Combat Anti-Semitism was founded in 2019 after the prominent Boston philanthropist Robert Kraft won the Genesis Prize. Kraft donated the million-dollar prize, and $20 million of his own money, specifically to fight antisemitism. Together Beat Hate is an online initiative geared toward young people to engage them in opposing hate in all forms, including LGBTQ hate, racism and Islamophobia.
There are currently six digital billboards up with five no-holds-barred slogans located in Peabody, Everett, Chelsea and Brockton. Drivers passing through those locations will not miss the arresting billboards with the hashtag #EndJewHate, proclaiming:
"We're just 75 years since the gas chambers. So, no, a billboard calling out Jew hate isn't an overreaction."
"You didn't like it when we didn't defend ourselves. And you don't like it when we do. Doesn't leave much wiggle room."
"I promise to love being Jewish 10x more than anyone hates me for it."
"Does your church need security cameras? 'Cause our synagogue does."
"Being woke and antisemitic is like being a vegan who eats veal."
Josh Kraft, president of Kraft Family Philanthropies, recently told JewishBoston: "We feel that this partnership with JewBelong makes a strong and powerful statement. You see the proclamations these billboards make. It is also an effective way to give Jewish kids a greater sense of pride in being Jewish."
Gottesman observed a disturbing spike in antisemitism during the Israeli-Palestinian conflict last May. "The word 'awful' does not even begin to describe antisemitism," she said. "It's sinister, and both Jews and allies don't know what to do about it. But one thing we know for sure that doesn't work is pretending it's not there. Hiding and not talking about it doesn't make it go away. So, people have to talk about it." To that end, JewBelong has also placed billboards in Times Square, Washington, D.C., Miami, Philadelphia and San Francisco.
Gottesman acknowledged that the hot pink billboards are not singularly going to solve antisemitism. However, she sees the billboards as "a way to yell and bring awareness. The color and the compelling messages draw attention. We want people thinking about this and talking about it." She added that the pink color, typically experienced as a happy, fun color, is arresting when paired with unexpected messaging spelled out in reader-friendly white letters. The goal, she said, is "to surprise people."
Wit, brevity and frankness fuel JewBelong's innovative work. Gottesman explained that the billboards are an outgrowth of JewBelong's mandate to instill Jewish pride in anyone who accesses the organization's resources. "JewBelong is about being welcoming; it's about having people feel like they belong and feel the love," she said. "By fighting antisemitism, I'm keeping the market share. If you're somebody who gets nothing from Judaism except people hating you, we're going to lose you. By confronting antisemitism, we're keeping Jews, which is keeping people doing JewBelong. They don't need the negative; they need to understand the glory and the joy of being Jewish."
Kraft added that reaching the public with JewBelong's billboards furthers his family foundation's mission. "Antisemitism is not taken seriously enough," said Kraft. "We need to be bold and make strong statements about hatred of Jews. Hate creates a domino effect. Hate one people, and you inevitably hate others."
Pink billboard 3
JewBelong-OUTFRONT Media Inc
Pink billboard 2
JewBelong-OUTFRONT Media Inc
Pink billboard 4
JewBelong-OUTFRONT Media Inc
Pink billboard 5
JewBelong-OUTFRONT Media Inc
JewBelong's billboards will be up in Boston through Oct. 3.
Judy Bolton-Fasman is the arts and culture writer for JewishBoston.com. Her essays and articles have appeared in The New York Times, The Boston Globe, The Forward, Tablet Magazine, Cognoscenti and other venues. Her memoir, "Asylum: A Memoir of Family Secrets," is out now. Email her at [email protected]
Reposted with permission from JewishBoston.