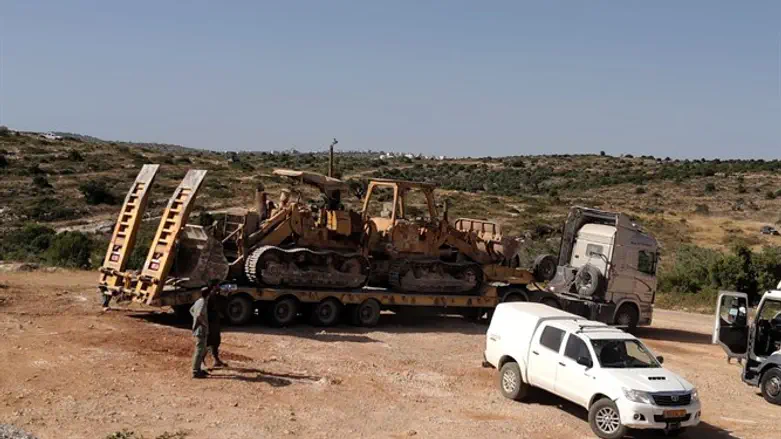 confiscating the equipment
IDF
IDF and the Israeli Defense Ministry's Civil Administration conducted a special operation to confiscate heavy equipment used in illegal construction in quarries in Area C of Judea and Samaria.
During the operation, the forces were confronted by Arab rioters who threw stones at them. No injuries were reported.
Numerous tools and pieces of heavy equipment were confiscated, including Caterpillar bulldozers, stone saws, pickup trucks, generators, and compressors. All of the equipment at the scene was confiscated and transferred to the impound lot at the IDF military base in Beit El. When the activity was completed, access to the quarries was blocked off.
Binyamin Regional Council chairman Yisrael Gantz said following the operation: "The war against the future of the settlements is at the top of the priorities of the Palestinians, but the destructive Fayyad program will encounter a wall in the form of the residents of the settlements and the IDF, who will always be there to fight it."
The Fayyad program refers to the plan laid out by then-Palestinian Authority premier Salam Fayyad in 2009, under which the PA would aggressively work to create facts on the ground in Judea and Samaria, in order to lay the groundwork for a future Palestinian state.
"We constantly see the illegal activities of Palestinians in the area, and such an operation should be carried out more often, with a strong and stern hand. We thank the IDF, the Ephraim Brigade and its commander, [Yiftach] Norkin, and the Civil Administration for these activities and the protection of our homeland. We will continue to build and expand within the Land of Israel," Gantz said.