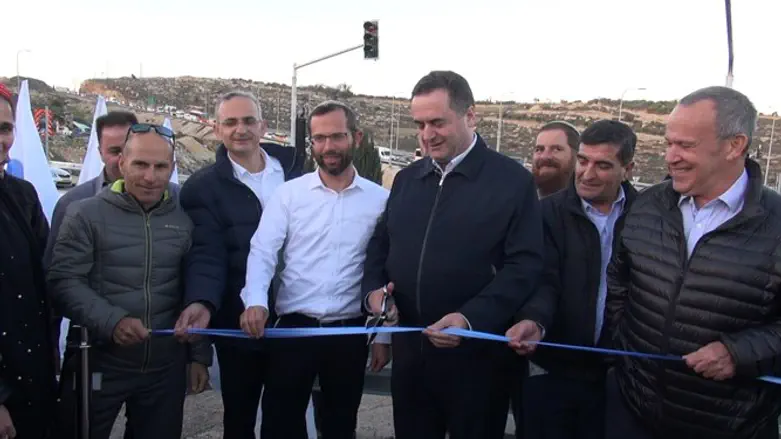 השר ישראל כץ בגבעת אסף
צילום: רפאל לוי
Transport and Intelligence Minister Yisrael Katz toured Binyamin today and inaugurated the Adam Interchange and new traffic light at Givat Asaf Junction, near Beit El.
The Minister told Arutz Sheva that this is a good day for Binyamin: "Today we inaugurated the Adam project which is a large-scale project, the traffic light here is a mid-scale project and together they provide quality of life, security, and safety and movement for everyone living here. Our goal is to ensure the quality of life and enable settlement to develop and to multiply itself.
"In light of all the attacks and in light of this despicable attack - and of course we wish health to all the wounded and the baby who's struggling for his life - we're allowing the settlement to develop and multiply, this should be the task of the State of Israel. To double the settlement, to settle Ofra, to regulate all the settlements after decades.
"We're promoting a strategic plan on a very wide range with light rail routes at high-risk areas and traffic lights to make Judea and Samaria part of the Israeli norm of a developed and connected country," Katz added.
Shai Alon (L) and Minister Katz
Rafael Levy
Minister Katz said he would work to improve the access road to Beit El: "After we completed these two projects (Adam Interchange and Givat Assaf Traffic Light) we'll work to enable this connection with a road with better conditions. This is part of the large and complementary projects to allow traffic to flow here."
Beit El Council head Shai Alon spoke of the change that took place in Judea and Samaria when residents began to work to promote quality of life, not just struggling to survive. "The State of Israel got a Minister who knows how to work, has been serving for so many years, and maintains functional continuity," he said.
Binyamin Regional Council head Yisrael Gantz spoke about the changes in Binyamin's roads in recent years, saying that until three years ago, the plan to deal with high-risk areas had not been implemented in Judea and Samaria and that the situation had changed.