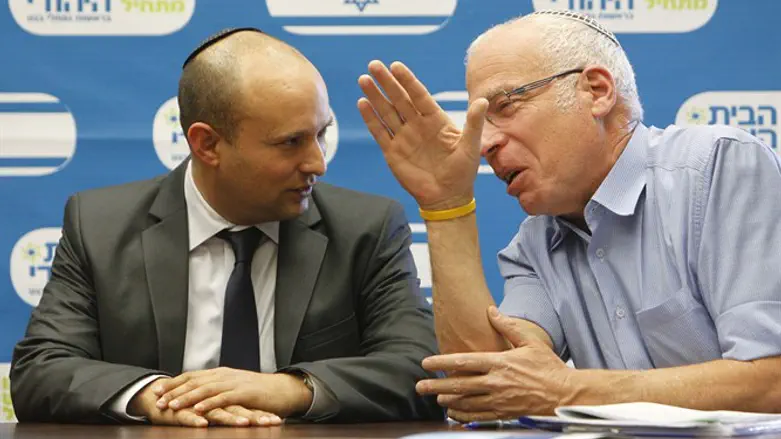 Jewish Home Party Chairman Bennett, National Union Chairman Uri Ariel
Miriam Alster Flash90
Chairman of the National Union Party and Agriculture Minister Uri Ariel and Knesset member Betzalel Smotritz both expressed support for the demand leveled by the Jewish Home Party that Education Minister Naftali Bennett be given the Defense Ministry portfolio.
The two National Union lawmakers said it would be good, "in order to fundamentally change the current security policy and in order for the IDF to return forever."
The National Union, an amalgamation of smaller right-wing parties, ran on a joint list with the Jewish Home in 2013 and 2015, and currently is a two-MK faction within the Jewish Home.
"We believe that only a clear military decision can deter Hamas, and anyone else involved in terror against us." Appointing Bennett as Defense Minister, they continued "will restore deterrence to Israel and send a message to the entire region that the State of Israel will not accept the violation of its sovereignty or its citizens."
Following the resignation of Defense Minister Avigdor Liberman, the Jewish Home Party put forward their demand last week, the Jewish House Party said they will resign the coalition if the Prime Minister refused their to give the defense portfolio to Naftali Bennett. Prime Minister Netanyahu has since refused their demands. As such, the Jewish Home Party will be convening for a special session on joining the National Union.
The National Union Party representatives Minister Ariel and MK Smotrich will vote on Wednesday to dissolve the Knesset on the decision of the center and will consult with the party rabbis.