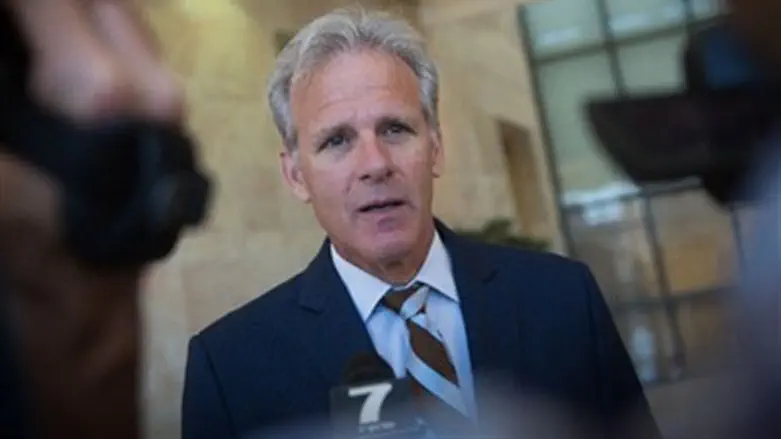 MK Michael Oren
Miriam Alster (Flash90)
Deputy Minister of Diplomacy Michael Oren strongly criticized the European Union's (EU) response to the terrorist shooting attack in which two Israelis were murdered Sunday morning.
Kim Levengrond-Yehezkel, 28, from Rosh Ha'ayin, and Ziv Hajbi, 35, of Rishon Letzion, were murdered by an Arab employee of the Barkan recycling plant who bound their hands and shot them at close range.
A 58-year-old woman who was moderately wounded during the attack is hospitalized at Beilinson Hospital in Petah Tikva.
EU Ambassador to Israel Emanuele Giaufret wrote following the attack: "Following the developing news on the attack in Barkan industrial area in the West Bank this morning. My condolences to the families of the victims. May the perpetrator be brought to justice. Violence can never be condoned."
Oren, who previously served as Israeli Ambassador to the United States, took issue with Ambassador Giaufret's ending sentence.
"EU again condemns terrorist murders of innocent Israelis by saying 'violence can never be condoned,'" Oren wrote on his Twitter account. "The EU never says that when terrorists kill Europeans. Could it be that the EU agrees with the Palestinian terrorist's motivations just not his methods?"
US Ambassador to Israel David Friedman was more unequivocal in his condemnation of the deadly attack than his European counterpart.
"The Barkan Industrial Zone has been a model of Israeli–Palestinian coexistence since 1982, with thousands working and prospering together. Today a terrorist shattered that harmony by brutally murdering two Israelis at work. Our deepest condolences to the families of the victims," Ambassador Friedman stated.