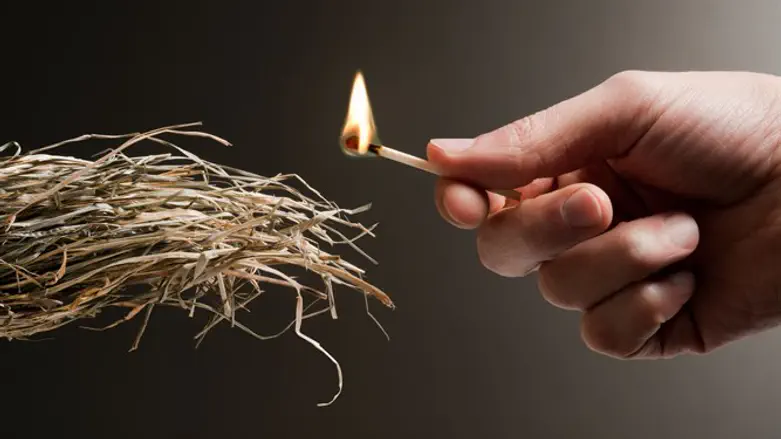 Arson
iStock
The District Attorney's Office filed an indictment against David Scharf, 41, of Eilat, for a series of arson attacks.
According to the indictment, Scharf decided to attack Arab Israeli citizens and set fire to their property in retaliation for the security situation in Israel.
Scharf planned to set fire to Arab property, as well as to torch open areas to divert firefighting forces and prevent them from responding to the arson aimed at Arab population areas.
Two weeks ago Scharf burned a souvenir shop in the Old City of Jerusalem. A day later, he called a relative saying he intended to "burn Arabs" because "they are burning us". The relative informed the police of the conversation, and Scharf was interrogated by the police and expelled from Eilat for 15 days.
Two days later, Scharf set fire to three additional locations: a field near the IDF base in Nahal Sorek, an olive grove next to a residential building in Jerusalem's Beit Tzafafa neighborhood, and vegetation next to other buildings and residences in Jerusalem.
The detention request read: "The potential damage inherent in the Respondent's actions is magnified by the location of the ignition sites, including near a military base and an easily-ignitable thorn field and in the heart of a city, among many bystanders passing by. Moreover, the danger posed by the Respondent is heightened by the motive for his actions. The Respondent chose to hit areas adjacent to the Temple Mount and the Old City, with the stated intention of inflaming passions and 'lighting up the area'."
The State Prosecutor's Office sought to extend the defendant's remand until the end of the legal proceedings against him.