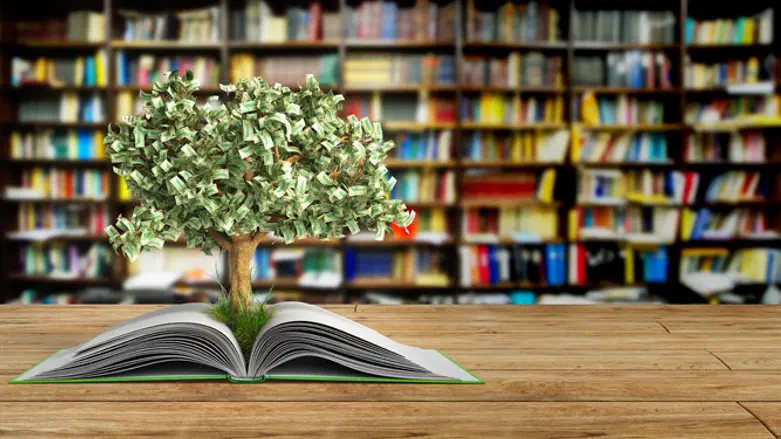 Tree sprouting from book
iStock
Education Minister Naftali Bennett and Education ministry Director General Shmuel Abuav presented today the "educational picture" data for academic year 2017 of Israel's higher education system.
Learning and achievement saw a 2% increase in the rate of entitlement to a matriculation certificate among twelfth grade students, and an increase of nearly half-percent was recorded in the rate of those entitled to an outstanding matriculation certificate among twelfth grade students.
In addition, there was an increase of about 3% in the rate of matriculation certificates that included 5 units in mathematics, and a 2.5% increase in the number of matriculation certificates including 5 units in English.
With regard to these increases, the Ministry notes that assimilating the national programs for advancing mathematics and English succeeded in pulling the educational system up, and this is evident in the constant rise in matriculation eligibility and in the quality of diplomas that include more mathematics and English over the past three years.
Bennett and Abuhav this morning
צילום: לע"מ
Minister Bennett said, "The educational picture for 2009 expresses a clear statement: Israel is moving in the right direction. More students in 5 units of mathematics and English, even in the periphery, along with an overall increase in matriculation eligibility - this is unprecedented social and educational news. We're building the infrastructure for integrating Israeli students in academia, employment, in significant roles in the IDF, and in the public and private sectors.
"The educational picture reflects the broad work and effort of principals, teachers, and students, and expresses both academic and social components. This best expresses our perception today - excellence alongside values. We'll continue to examine the education system through a broad and comprehensive picture and present it in a transparent and complete manner to the Israeli public."
Education Ministry Director General Shmuel Abuav added, "The education system is progressing. The percentage of those entitled to a matriculation certificate reached 68.2%, reflecting an additional 2,500 students who can integrate into higher education. The education system promotes a series of national programs - education programs for values, achievements, and excellence - and we see that not only does the picture of eligibility improve, but that the matriculation certificate is becoming more and more qualitative, with an increase in the percentage of graduates reaching five units. I'd like to congratulate the principals and teachers who worked tirelessly to ensure the success of the graduates."
For the full report in original Hebrew click here.