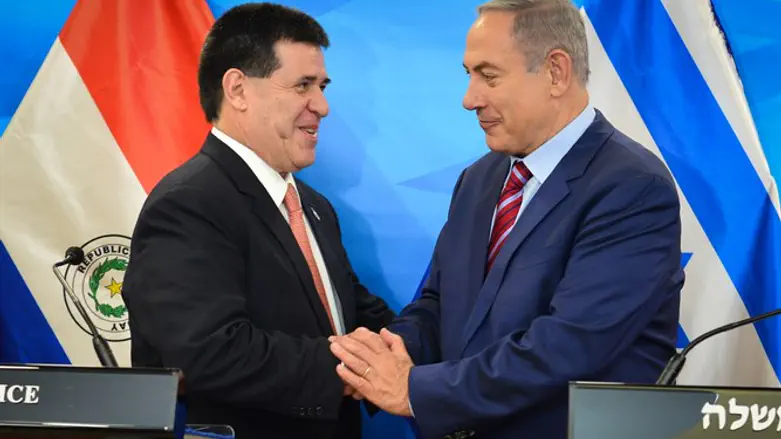 Paraguayan President Horacio Cartes with Netanyahu
Kobi Gideon/GPO
Just days after the US and Guatemala became the first and second countries to relocate their embassies in Israel from Tel Aviv to Jerusalem, Paraguay is poised to open a new embassy in the Israeli capital, becoming the third nation to grant full recognition of Jerusalem as Israel's capital city.
Paraguay's President Horacio Cartes landed in Israel late Sunday night ahead of the embassy unveiling, and met with Internal Security Minister Gilad Erdan.
"I thanked the president [Cartes] for his decision [to move the embassy], which highlights the deep ties between our two countries, and his brave leadership," tweeted Erdan. "Another leader of a state which chose the truth and to strengthen our sovereignty over our capital. Thanks!"
Earlier this month, Paraguay formally announced its plans to relocate its embassy from Tel Aviv to Jerusalem.
In April, President Cartes vowed to move his nation's embassy to the Israeli capital before leaving office this August.
Cartes is expected to attend the opening of the new embassy, before meeting with Prime Minister Binyamin Netanyahu at a special event hosted by Israel's Foreign Ministry.
Netanyahu is also slated to take part in the embassy unveiling ceremony.