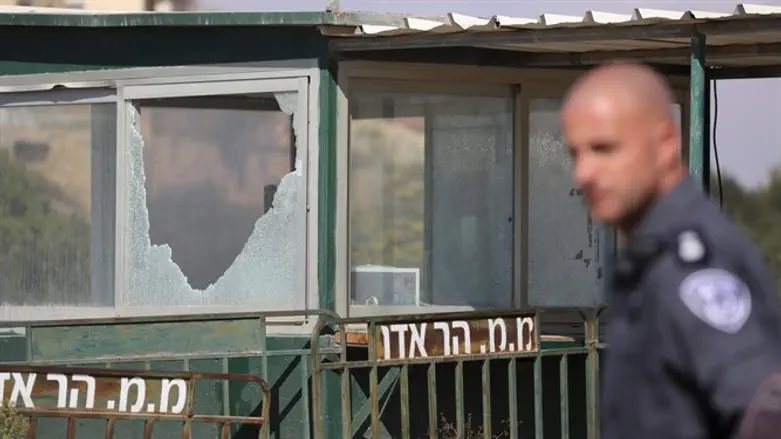 Scene of atack, Har Adar
Yonatan Sindel/FLASH90
The Osman and Arish families, whose sons were murdered in the attack on Har Adar a few months ago while they were guarding the community entrance, made an appeal to Defense Minister Avigdor Liberman and Central Command chief Roni Numa.
The families demanded the revocation of entry permits to work in Israel from those who participated in the mass funeral of the terrorist who murdered their children.
The attack, carried out by 37-year-old Beit Surik resident Nimer Mahmoud Ahmed Aljamal, took place at the back entrance to Har Adar, northwest of Jerusalem.
"On Friday night, February 2, 2017, a terrorist's body was delivered to his family without informing the families of the murdered, against the decision of the cabinet and the state's announcement in the Supreme Court, and against all logic," read a letter sent by attorney Chaim Bleicher.
The letter noted that the families identified many of people who had been admitted to work in Israel participating in the funeral on Palestinian television. "On Saturday there was a funeral with PLO and Fatah flags, shouts of encouragement for terror, incitement, and other evils. The funeral was aired on PA TV. My client identified many faces of those who enter Israel and the settlement of Har Adar among participants in the terrorist funeral. Our immediate demand is to examine the images that were broadcast and immediately deny entry permits of the terrorists and their supporters."
The families also noted that "failing to act on the matter means abandoning Israeli citizen's security, and there can be no justification for the authorities to allow these ticking time-bombs to circulate freely in Israel's cities.
"My clients, who have lost what is most dear to them, can not remain indifferent to a situation in which the abominable murderer of their loved ones is carried proudly by workers returning to Israel," added the lawyer.
In conclusion, the families mentioned that previous letters they sent did not receive an answer, and asked that this time their letter be answered.
Attorney Bleicher said, "The world does not go on as usual for the bereaved families after such a terrible attack. The victims' families remind us that danger lurks ahead. It is inconceivable that during the week workers from Judea and Samaria enter the settlements and on Shabbat participate in a funeral with wild incitement and praise for a despicable terrorist.
"We must listen to the families of security guards who physically stopped a massacre at Har Adar, and not allow potential bloodthirsty terrorists to walk near kindergartens. Anyone who took part in the incitement-filled procession should have his entry permit to Israel cancelled," the lawyer said.