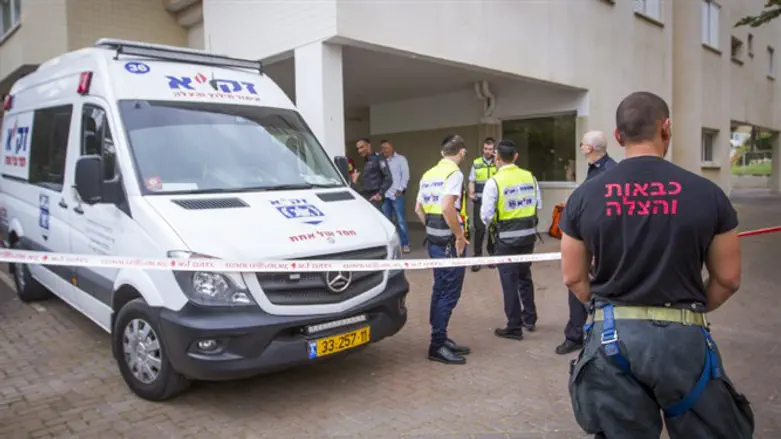 Fire and rescue teams join police and emergency medical teams at scene of fire (archive)
FLASH90
A woman in the coastal city of Ashdod attempted to set her second-story apartment on fire over the weekend, in what police believe was part of a murder-suicide attempt targeting the woman's two small children.
On Saturday, neighbors reported a fire in the woman's apartment – a fire that investigators say the woman herself sparked with the intention of killing her two small children, ages four and five.
As neighbors waited for fire and rescue teams to arrive, they pleaded with the mother to throw her children down to them from her second-story apartment, which was by then completely engulfed in flames and filled with smoke.
After the two children ran to the window and called for help, the mother eventually did throw her children down to neighbors waiting below. When fire and rescue teams arrived at the scene they rescued the mother from the burning apartment.
The woman and her children were evacuated to Assuta Hospital in Ashdod, after three suffered smoke inhalation.
Police later arrested the mother, it was revealed on Sunday, after investigators concluded that the fire had been intentionally sparked, and was apparently an attempt to murder the two children, after which the mother would have taken her own life.
The mother's arrest has been extended for three days.
In January 2017, a woman and her four children were found dead in their Jerusalem apartment in what police later determined was a murder-suicide by the mother, a 36-year-old immigrant from France.