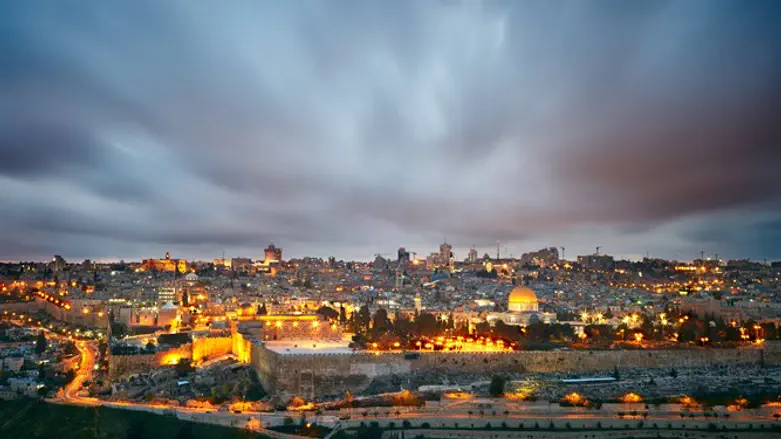 Jerusalem
iStock
The Knesset on Monday night approved the second and third readings of the so-called "United Jerusalem Bill".
64 MKs voted in favor of the bill, 51 voted against and one abstained.
The bill was authored by Jewish Home chairman and Education Minister Naftali Bennett and was submitted by MK Shuli Moalem-Refaeli (Jewish Home).
The law stipulates that a majority of 80 Knesset members will be required to change the status of Jerusalem or for any transfer of territories from the capital within the framework of a future diplomatic agreement.
Previously a majority of only 61 MKs was required.
The vote ended just before 3:00 a.m. after many Knesset members spoke in favor and against the legislation, and after a vote of many reservations about the various clauses of the law.
Minister Ze'ev Elkin (Likud) welcomed the passing of the bill.
"I congratulate the Knesset on the approval by a large majority of the amendment to the Basic Law: Jerusalem, which strengthens the defensive wall against those on the left who may try to harm Israeli sovereignty in united Jerusalem in the future," he tweeted.
Bennett welcomed the approval of the legislation as well in a post on Facebook.
"Just now we ensured that Jerusalem will be united forever. We initiated the law that guards Jerusalem so that it cannot be divided without a huge majority of 80 MKs," he wrote.
"The Mount of Olives, the Old City, the Temple Mount and the City of David will remain in our hands forever. There will be no more political maneuvers that will allow to tear our capital apart. This is also Israel's response to the shameful United Nations vote against Jerusalem. A holiday for Israel!" he added.