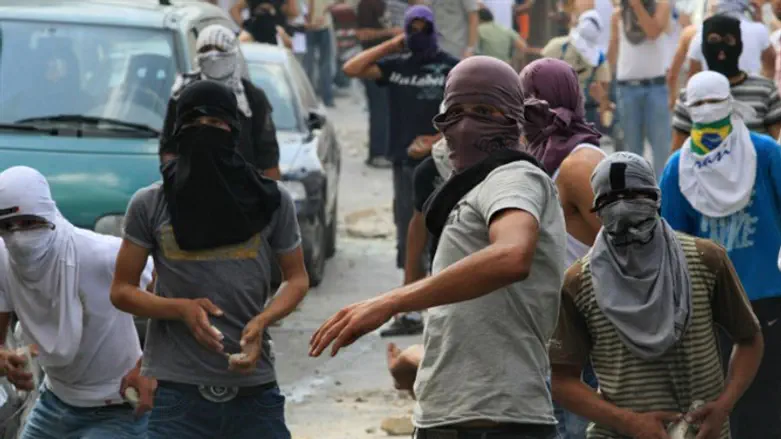 Mob attacks with stones (file)
Flash 90
An Israeli woman from western Samaria survived a stone-throwing attack on her way to central Israel Monday morning not far from the scene of a deadly terror attack this July.
Yiska Levinger, a 25-year-old resident of Neve Tzuf (Halamish) in western Samaria, says Monday morning's attack could have easily ended in tragedy.
Levinger said she was heading out early Monday morning to studies in Bnei Brak, when she felt a sharp impact in the front of her car.
"I left the house at about 6:30 in the morning," Levinger told Yediot Aharonot. "Luckily my son wasn't in the car."
When she passed by the village of Deir Niddam next to Halamish, however, Levinger's routine drive to school became a fight for survival.
"I felt a strong 'boom' inside the car. At first, I was sure that I was being shot at, but then I saw the sharp rock which had nearly penetrated all the way through the windshield into the car, and which had smashed the windshield completely."
"It was utterly terrifying. I kept calm and continued to drive to the next army position, which is what they taught us to do in survival courses. At that point I noticed that I was covered with pieces of broken glass and that my arm had been lightly injured.
"The rock which was thrown was especially sharp, intentionally so as to be able to penetrate [the windshield]. It was miraculous that no one was hurt in this attack."
Five years ago, Levinger survived a firebombing attack en route to Neve Tzuf (Halamish).
In July, an Arab terrorist broke into a home in Neve Tzuf and stabbed three members of the Salomon family to death.