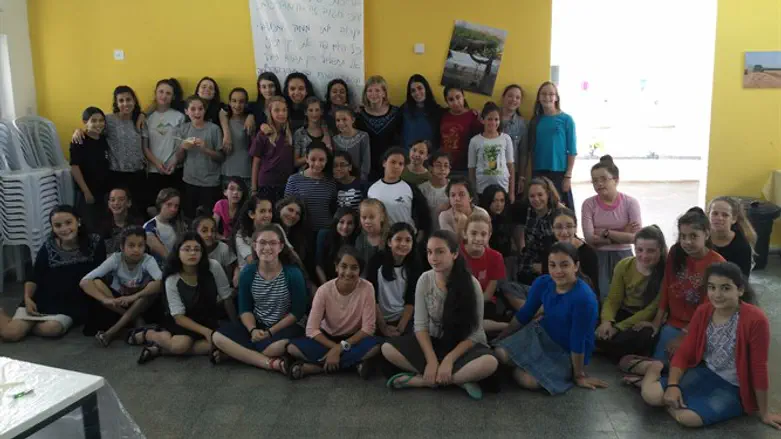 Some of the girls in the Jordan Valley
Bikat Hayarden Girls' High School
Dozens of girls participated in a "wildflower camp" at the Bikat Hayarden Girls' High School, where "every girl is special."
Anyone visiting the Jordan Valley town of Hamra last week would have felt the sweltering heat - and he would have rubbed his eyes to make sure he wasn't imagining a group of 50 girls participating in various outdoor activities.
The girls, all of whom are going into seventh and eighth grades, jumped from a Torah lesson to the swimming pool, and from there to another exciting activity, and from a hike in the the Valley of the Springs Regional Council to a hike in the Binyamin-region Ein Mabua.
The school, which recently finished its second year, opened the "Wildflower Camp," drawing dozens of girls from the Jordan Valley, Binyamin, and Samaria - as well as from Petah Tikva, Sderot, and the Negev's capital of Be'er Sheva.
Bikat Hayarden Girls' High School Dean Rabbi Itai Pador said, "The idea came up last year, too. To our surprise, the number of applicants was double what we had planned."
The camp, which is "homemade," was run by the dormitory director and dorm counselors, with tenth grade students acting as assistants.
The school is expected to double in size next school year.
"Over the course of the year, we knew that next year would be a breakthrough year," Pador said, adding that the first class will graduate next year. " I am sure that despite its growth, the school will continue to be homelike, and every girl will feel special and significant, and find her own unique way to serve G-d."
Girls from the Ulpana / Credit: Bikat Hayarden Girls' High School