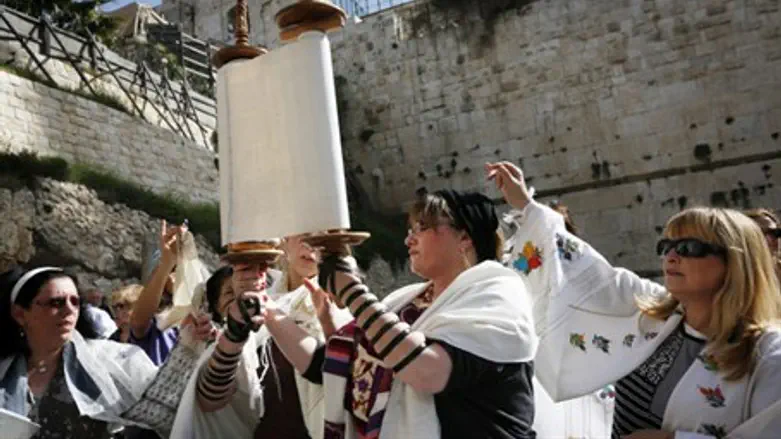 Reform Women of the Wall (illustration)
Flash90
(JTA) The Supreme Court of Israel gave the government an extra three months to present a plan for egalitarian Jewish prayer at the Kotel.

Sunday's ruling also declined to issue a temporary order allowing women to use the site's Torah scrolls in the women's section in contravention of the orders of the rabbi of the Kotel, Shmuel Rabinowitz, Walla reported.

In an interview published Monday in Haaretz, Jewish Agency Chairman Natan Sharansky, a key figure in the negotiations leading to the agreement, said the decision to reopen discussions on the egalitarian prayer section at the Western wall could torpedo the plan. Every word of the agreement was carefully negotiated, he noted, and making major changes could also "undermine the level of trust that has been established between the prime minister and the leaders of world Jewry."

Late last month, Israeli Prime Minister Benjamin Netanyahu appointed his bureau chief, David Sharan, to work out what he called in a statement "several difficulties" with the plan. The statement said Sharan would "coordinate discussions on this issue with the various elements" and present recommendations within 60 days to resolve the difficulties.

The deal announced at the end of January expands the Western Wall's existing non-Orthodox prayer section and creates a shared entrance with the Orthodox main section to its north. Women of the Wall, which holds women's services in the Orthodox section, eventually is to move to the non-Orthodox section as part of the deal — which originally  was backed by the Reform and Conservative movements, the Israeli government and the wall's haredi management.

Last month, Rabinowitz, withdrew his support for the plan and called on haredi Orthodox party leaders to introduce legislation to cancel the deal, as well as cancel a 2013 district court ruling allowing the Women of the Wall group to pray in the main Orthodox section of the wall.

Several haredi Orthodox leaders and the Chief Rabbinate have publicly opposed the plan.