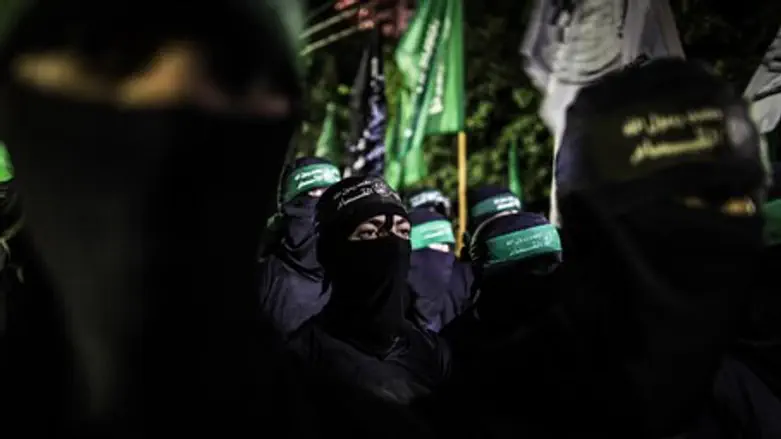 Hamas terrorists in Gaza
Emad Nassar/Flash 90
A military court in Gaza on Sunday sentenced three men from Gaza City's Zaytoun neighborhood to prison, in addition to penal labor, after they were convicted of collaborating with Israeli intelligence, the Ma'an news agency reported.
One of the men, 30, was sentenced to 15 years in prison, while another 30-year-old suspect was sentence with nine years.
The third man, 25, was given a seven-year sentence, according to Ma'an.
Hamas regularly places citizens on trial on charges of spying for Israel, and sometimes sentences them to death.
The group executed 18 men in August of 2014 for collaboration with Israel. The move was blasted by the Palestinian Authority (PA), which said that the executions had been conducted illegally outside of the Palestinian court system and could thus not be considered to have gone through fair process.
Under Palestinian law, collaboration with Israel is punishable by death. All death sentences, however, require the approval of PA chairman Mahmoud Abbas, who issued a moratorium on death sentences in 2005.
Hamas ignores the moratorium and carries out the executions anyway, as it no longer recognizes the legitimacy of Abbas, whose four-year term ended in 2009.