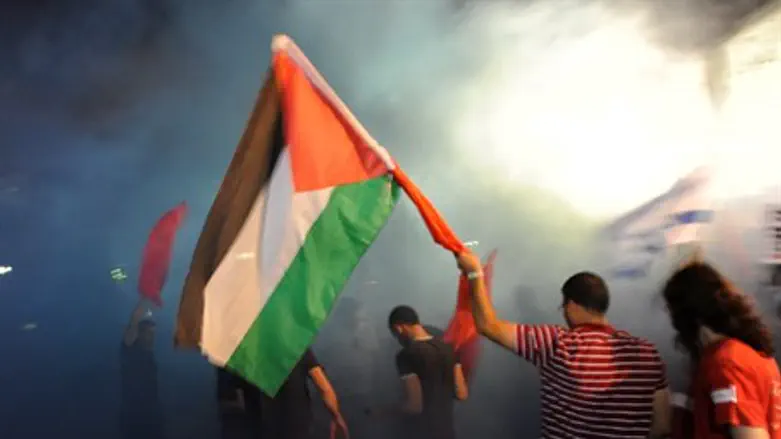 Arab protest with PLO flag (file)
Flash 90
Arab citizens of Israel living in the coastal city of Yafo directly south of Tel Aviv held a violent protest on Tuesday night, demonstrating against the "harm" to Al-Aqsa Mosque on the Temple Mount, where police have been forced to defuse planned Arab attacks involving explosives and rocks.
Even though the protest had no permit, police decided to allow the illegal demonstration to take place in an apparent attempt to allow Arab residents to vent off steam, while warning the organizers to maintain public order.
However, despite the promises the protesters at a certain stage began hurling rocks at cars driving near Yefet Street and Toulouse Street, and even blocked the roads with trash cans, tires and other materials.
The rioters, some of them masked, began hurling rocks at police officers as well, and even assaulted and wounded five officers.
The police said in a statement that Yiftah district police are working to return the public order and stop the rioting.
Video of the violent protest, in which the Israeli Arabs can be seen waving the flags of the Palestine Liberation Organization (PLO) terrorist organization as well as green Hamas flags, can be viewed below.