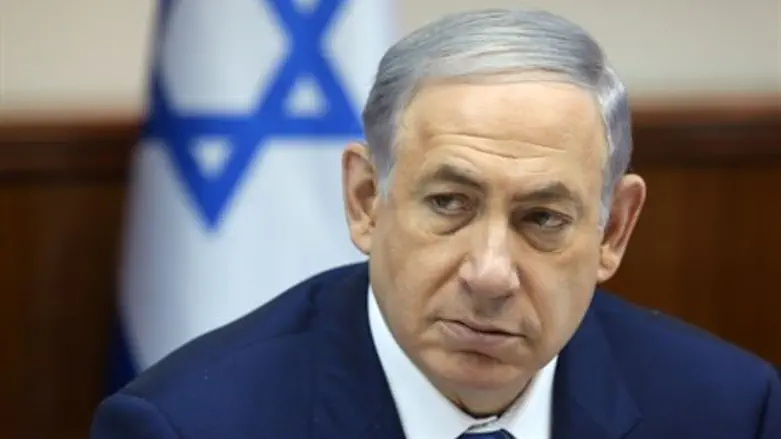 Prime Minister Binyamin Netanyahu
Credit: Marc Israel Sellem
Prime Minister Binyamin Netanyahu sent greetings for the Muslim and Druze holiday of Eid Al-Adha, which was celebrated on Tuesday night and Wednesday. 
"My brothers and sisters, members of the Druze community in Israel and the region, I would like to wish all of you a happy holiday on the occasion of Eid Al Adha," he stated. "'Eid mubrak v'ainato bachir.'"
Netanyahu emphasized the commonality between the Jews and the Druze. 
"I know that this holiday, for you, is very similar to our holidays, to Yom Kippur, repentance for sins, spending time with one's family, doing well by one's fellow," he said. "This is another component in the close relations between us."
"I would like to tell you that we will continue to take action to improve the situation of the Druze community. We want to close the gaps. We hold you to be an integral part of the State of Israel, partners in everything. A happy holiday to you all."
The Prime Minister sent a very different message to the Muslim community, urging peace - but also issuing a warning. 
"Muslim citizens of Israel and members of the Islamic faith around the world, I would like to wish you all an 'Eid mubrak'," Netanyahu stated Friday afternoon. "I hope that this year will be one of peace between the religions."
Violence on the Temple Mount would not be tolerated, he warned. 
"I would like you to know that Israel is maintaining the status quo on the Temple Mount," he said. "Israel safeguards the holy places of all faiths." 
"Don't be led astray by incitement, wild incitement that is without foundation," he concluded. "We respect all religions."
Violence has been going on at the Temple Mount complex since before Rosh Hashanah, when masked Muslim rioters hurled rocks and fireworks at police on the Temple Mount, as well as firebombs near two entrances to the site. Riots have continued on and off for over a week. 
Netanyahu may be referring to active incitement by Palestinian Authority (PA) chairman Mahmoud Abbas, who has called for an impending "intifada" and said that "the Al-Aqsa (Mosque) is ours...and they (Jews) have no right to defile it with their filthy feet," while praising "martyrs" who spill blood in Jerusalem for Allah.