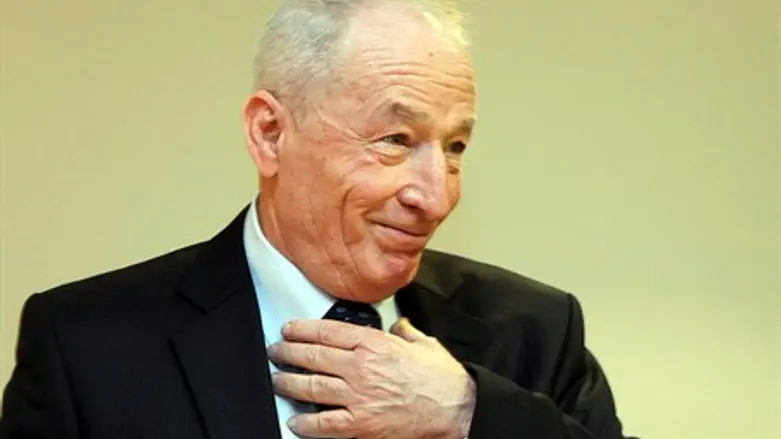 Yehuda Weinstein
Yossi Zamir, Flash 90
The Israeli government has decided to loosen restrictions on opening fire against terrorists who throw rocks and firebombs at Israelis, and set minimum sentences for rock-throwing terror, but the decision appears to mean little as long as Attorney General Yehuda Weinstein does not pronounce his opinion on the matter.
While Prime Minister Binyamin Netanyahu announced at a Sunday cabinet meeting that the new rules were already in force, it appears that Weinstein is taking his time in giving his agreement.
Netanyahu wants to impose a five-year minimum sentence on rock throwers. Weinstein thinks the punishment should be 2.5 years, reported Channel 2 Sunday evening. The prime minister made clear that this is not enough, in the top-level discussion held earlier in the day.
Regarding firebomb throwers, the prime minister wants the minimum sentence to be 10 years, and Weinstein will only announce his opinion on Thursday.
The stiffened punishments will be issued as temporary orders, valid for specified periods of time. While Interior Security Minister Gilad Erdan wants the order setting the minimum sentence for rock throwing to be valid for three years, Weinstein wants it to be valid for just one year.
There appears to be agreement among Weinstein and the ministers involved that the temporary order regarding firebomb throwers will be valid for several years.
Meanwhile, three vehicles were damaged in Arab rock ambushes Sunday on the major 443 Highway, near Beit Ur a-Tahta. Other vehicles were ambushed on Highway 60, not far from Hevron. No one was reported hurt in these incidents. 
Murmur of discontent
There has been a growing murmur of discontent in recent days among politicians, ordinary citizens and even the normally left-wing media, regarding Weinstein's unlimited power to shoot down government decisions, which some say makes him the "real leader" of Israel despite never having been elected. 
Netanyahu announced in Sunday's government session that he has instructed "legal elements" to reconsider the current open-fire instructions, so that the police can prevent terror and deter terrorists. Weinstein said in response that he would "look into" changing the open-fire instructions.
Weinstein is both Attorney General and Legal Advisor to the Government, in an arrangement unique to the Israeli government. As such, he can stymie any government decision by refusing to defend it against a potential High Court motion.
His five-year term is about to end and it is not yet known who the next attorney general will be, and whether he will continue in Weinstein's footsteps, which many see as dictatorial and anti-democratic, or allow the government to split the Attorney General's powers and those of the Legal Advisor to the Government between two officials instead of one.
There is also mounting anger against Weinstein for his apparent intention to sabotage the appointment of Brig. Gen. (res.) Gal Hirsch as the new police commissioner. Sources near Weinstein have been telling media that the background check into Hirsch will take a long time and that Minister of Internal Security Gilad Erdan should appoint someone else instead. There are no specific suspicions against Hirsch, however.
'With all due respect to the court...'
"Rocks and Molotov cocktails are lethal weapons, they kill and have killed, so the last few days we have changed the rules of engagement for policemen in Jerusalem," Netanyahu said at Sunday's cabinet meeting. ''At the end of last week they used the new measures under the new directives, and struck the rock throwers and Molotov cocktail throwers." 
"We will also reinforce our forces against terrorists, under the simple principle that we apply around our borders and within our territory: anyone who tries to harm us - we hurt them," he added.
Netanyahu also addressed the legislative side of the issue. 
"We also began promoting rapid legislation imposing fines on parents of minors throwing rocks and Molotov cocktails," he said, referring to legislation promoted by Justice Minister Ayelet Shaked and Social Affairs Minister Haim Katz late last week. "Of no less importance to me is promoting legislation for determining the minimum sentence for rock throwers, Molotov cocktails and fireworks."
"We cannot accept the principle that in Jerusalem, our capital, or any part of the State Israel, the Galilee or the Negev, people organize mass terror and start throwing bottles at passing cars - or [throw] rocks, killing people," Netanyahu added, referring to the death of Jerusalemite Alexander Levlovitz on Rosh Hashanah Eve. 
"This norm will not stay here, it will become the opposite: we will catch you in the act, we will punish you to the full extent of the law," Netanyahu warned. "This is the norm that we seek to instill in all citizens of Israel, all residents of Israel and all the judges of Israel."
"With all due respect to the court, we have the right and obligation to determine this norm, as we have done in relation to sexual offenses, and we will set a minimum sentences rock throwers and throwing Motolov cocktails."