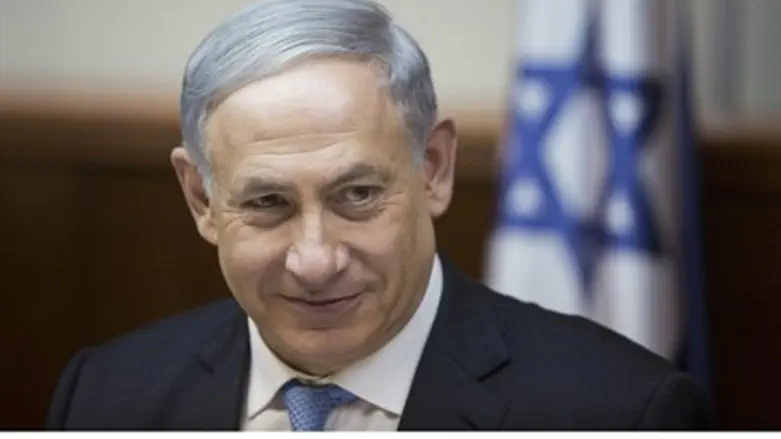 Netanyahu speaks after swearing-in of the government
Yonatan Sindel/Flash90
Prime Minister Binyamin Netanyahu announced on Thursday a major agreement between his government and a consortium on natural gas production in the Mediterranean Sea.
A framework plan will be submitted for the government's approval on Sunday, during its weekly Cabinet meeting. 
Negotiations have long been under way with a consortium including Noble Energy and locally based Delek Group, with talks involving natural gas pricing for Israeli reserves and future production.
Noble and Delek have since 2013 produced gas from the Tamar field off the Israeli coast. They have also teamed up to develop the offshore Leviathan field, considered the largest in the Mediterranean.
The negotiations have been controversial in Israel, with critics fearing regulations would overly favor the companies involved.
In May, antitrust commissioner David Gilo said he was resigning over his opposition to the dominant position of Noble and Delek in the Leviathan and Tamar fields.
According to Haaretz, Netanyahu's negotiators offered Noble Energy to base the price of future natural gas contracts for the Tamar gas field on pre-determined electricity production contracts, in which the price of gas is set at $5 per million BTU. 
The government has also agreed to implement only minor milestones for the development of the Leviathan offshore gas field. These include a $1.5 billion commitment to providers over the next two years and a gas supply within the next five. 
"The agreement will bring in hundreds of billions of shekels to Israeli citizens over the coming years," Netanyahu said, commending the deal in a televised statement, without specifying details. 
"I shall bring this agreement to the cabinet on Sunday. I'm sure it will pass by a large majority of votes," he added. 
AFP contributed to this report.