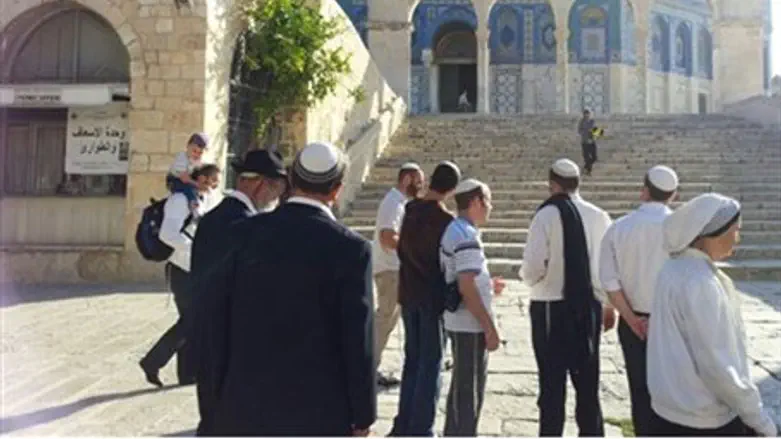 Jews on Temple Mount
Arnon Segel
Despite the two terror attacks that took place in Israel within the past 48 hours, Israel has not rescinded any of the "gestures" it granted Palestinian Authority residents for the Ramadan period – and concerned citizens belonging to the "Return to the Mount" group seek to change that. In a letter to Defense Minister Moshe Yaalon and Interior Security Minister Gilad Erdan, members of the group asked that the "gestures" be canceled, at the very least for Gaza Arabs.
The "gestures" include enabling Arab men aged over 40 and all Arab women in Judea-Samaria to have access to the Temple Mount, and allowing 800 Arab residents of Gaza to attend Friday prayers at the Mount. Another 500 Arabs in Judea-Samaria will be let into Gaza, 300 Palestinian Arabs living abroad will be allowed into Gaza to visit family, and 500 Arab residents of Judea-Samaria will be permitted to fly from Ben-Gurion International Airport.
The activists, who advocate for allowing Jews to pray freely at the Temple Mount, asked that the Gaza Arabs be banned from the Mount during the Ramadan period.
"The recent attacks, especially the chain of attacks in Jerusalem that culminated in the stabbing attack near the Old City Sunday morning, are a direct result of the daily incitement of Arabs against Jews who attempt to pray on the Temple Mount," the group said. "Instead of keeping them off the Mount, as should be the case, the government of Israel is going out of its way to provide them with more opportunities to enter the Mount to incite further against Jews."
With Hamas responsible for terror attacks and rocket attacks on Israel, those living under its rule do not deserve Israeli gestures, the group said, adding that it would be preferable to keep Arabs from Judea and Samaria off the Mount as well, as "they do not deserve the prize of being allowed to enter the Mount on Fridays of Ramadan." At least, the group added, Gaza Arabs should be banned.
While Jews are generally allowed to enter the Temple Mount, they are often harassed by Arabs who seek to ban Jews from the site altogether. Jews are also not allowed to pray on the Mount, and if they are caught doing so they are subject to penalties, ranging from being banned from the site to arrest. Jews who do visit the Mount are generally "tailed" by Israeli police and members of the Muslim Waqf, who manage the mosques on the Mount, in order to ensure that they do not pray.
The Temple Mount is the holiest site in Judaism, the location of the First and Second Holy Temples.