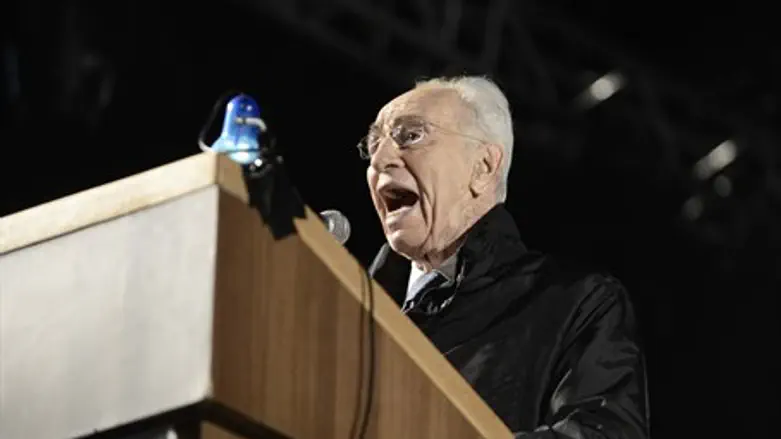 Shimon Peres
Tomer Neuberg/Flash 90
News that former President Shimon Peres will be promoting Bank Hapoalim for $30,000 a month was met with criticism on Monday by Knesset Members from both the left and the right.
Responding to the news, as reported by the financial newspaper The Marker, MK Shelly Yechimovich (Zionist Union), said on Twitter, "I knew he loved honor, it turns out that he also loves money. Superfluous, puzzling, annoying, embarrassing. We talk about peace. And money."
MK Zehava Galon (Meretz) denounced the move as well and said, "I have a lot of admiration for former President Peres and his many years of activities for interest of the public and for the good things he believes in, and it is for that very reason that I am amazed and ashamed. In return for $30,000 a month, former President Peres will work for Bank Hapoalim and it is believed that he will help the bank to fight against the just reforms that are meant to end the thousands of ways in which it gouges its clients."
Galon continued, "Everything [Peres] had accumulated during his tenure - global and domestic ties, public sympathy, intimate familiarity with the Presidential Residence and with various government offices - he is going to take advantage of for the interests of Bank Hapoalim and its owners."
"I call on former President Peres - you've done so much for the public in Israel, earned your status through honesty and hard work, do not give up on all this. The unprecedented trust you received from the Israeli public requires you to do more. After so many years as the number 1 citizen, you do not have the privilege to act like an ordinary citizen," she concluded.
MK Miri Regev (Likud) also responded to Peres's new role, saying, "It will definitely be interesting to see Peres at the Knesset wearing the orange ribbon that is worn by lobbyists. It's simply unbelievable. Former President Shimon Peres, according to the publication in The Marker, agreed to a contract with Bank Hapoalim under which he will receive $30,000 to promote the bank's affairs. There are former presidents who are engaged in global warming, world peace and helping underserved populations, but our president chose to help Bank Hapoalim for a salary. It's a bit odd that a person who celebrates his birthday at a cost of millions of shekels and signs a contract with a bank calls [Prime Minister] Netanyahu's policy 'swinish capitalism.'"
While in office, Peres was criticized for his lavish 90th birthday celebrations which were attended by some 2,000 people. In fact, the presidential institution cost the state a whopping 62 million shekels ($17.6 million) in 2012, a figure three times higher than a decade earlier.
Nevertheless, Peres in December chose to criticize Prime Minister Binyamin Netanyahu's government, saying it "talks but doesn't act" against poverty.