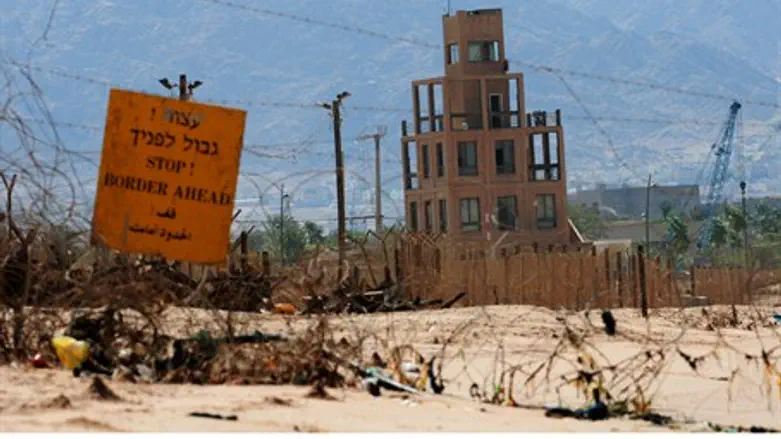 Jordanian border (file)
Mendy Hechtman/Flash 90
Jordan on Sunday expressed concerns over air traffic safety as it restated its opposition to the construction of an Israeli international airport near the coastal city of Aqaba, AFP reports.
Ali Odaibat, a spokesman for the Jordanian Transport ministry, told the official Petra news agency Jordan had notified the International Civil Aviation Organization (ICAO) about its concerns over the Israeli project and to "stress Jordan's keenness to protect its airspace."
Jordanian officials have repeatedly raised issue with the Timna airport, which is under construction just 10 kilometers (six miles) from the Red Sea Jordanian resort town of Aqaba and King Hussein airport.
Officials in the Kingdom have said the Israeli airport is too close and will affect takeoffs and landings at Aqaba's airport.
Odaibat said the ICAO would consider Jordan's complaint and "make a decision on the (Timna) airport in terms of its impact on Jordan's aviation sovereignty and public safety."
The new airport -- being built at a cost of more than $470 million - would be located northeast of the Israeli resort town of Eilat, in the southern Aravah region of the Negev desert.
Jordan is one of two Arab countries, along with Egypt, to have signed a peace treaty with Israel, but there have been recent tensions between the two countries, mostly revolving around the Temple Mount, where Arab assailants constantly riot to close the site to Jewish access.
Jordan recently announced  that its ambassador to Israel would return to his post in Tel Aviv three months after he was recalled over "violations" at the Temple Mount, those "violations" referring to talk of allowing equal Jewish prayer rights at the holiest site in Judaism.
Jordan had previously threatened to revoke the 1994 peace treaty with Israel over tensions at the Temple Mount. 
The Jordanian parliament last November also held a special prayer session for the two Arab terrorists who committed a brutal attack on a Jerusalem synagogue, murdering four Jews at prayer and beheading two of them, as well as murdering a police officer.
Jordan's Prime Minister Abdullah Nsur also sent a letter of condolence to the families of the two murderous terrorists.
Nevertheless, the sides seemed to have gotten closer recently as the region continues to battle against the Islamic State (ISIS) terrorist group. In February, Jordan and Israel signed a deal to build a pipeline to link the Red Sea with the shrinking Dead Sea and combat regional water shortages.