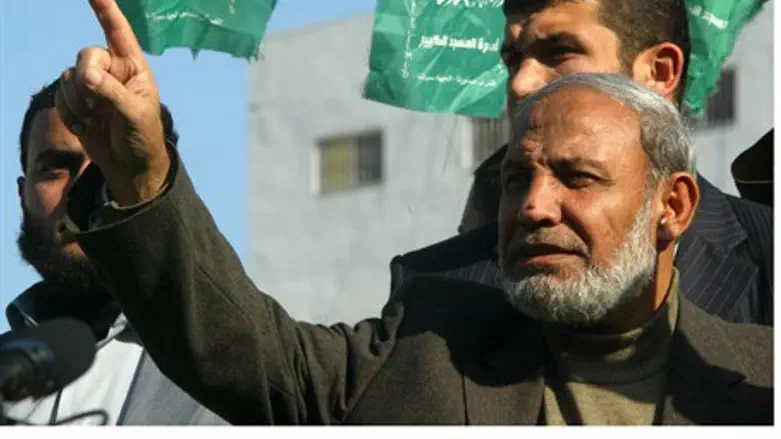 Mahmoud a-Zahar
Abed Rahim Khatib/Flash 90
Senior Hamas leader Mahmoud a-Zahar spoke on Sunday about the approaching Israeli general elections Tuesday, and surprisingly voiced concerns that leftists will take control and launch another peace process with the Palestinian Authority (PA).
"The Left will drag Abu Mazen (PA Chairman Mahmoud Abbas) to negotiations for talks that will continue 500 years," said a-Zahar, reports Channel 2.
The Hamas leader noted "what interests us is who will be our enemy in the next war. A leftist government is a disaster to the Palestinians no less than (Binyamin) Netanyahu - during the time they're dragging negotiations, the settlements will be expanded and the (West) Bank will be destroyed."
The senior terrorist, whose house was targeted in Hamas's last terror war against Israel, added that Hamas "has good ties with Iran and we'll always work to preserve those ties."
A-Zahar noted that unlike other states, "Iran gives and doesn't ask for anything in return," a reference to the massive provision of financial backing and weapons to support Hamas's attempts to destroy Israel. Other countries backing Hamas include Qatar, Turkey and Kuwait.
Indicating that a-Zahar's assessment about the PA being willing to enter negotiations with a leftist Israeli government is on target, PA chief negotiator Saeb Erekat expressed hope that talks would restart; the last round was torpedoed by the PA last April when they sealed a unity agreement with Hamas.
"The position of the (Palestinian) Authority is known - it supports peace," claimed Erekat, despite the fact that Abbas's Fatah faction took an active role in Hamas's latest terror war against Israel.
Speaking to Voice of Palestine radio, Erekat continued, "we hope there will be an (Israeli) government that will be able to make peace."
Erekat said the PA demands a full Israeli military withdrawal from Judea and Samaria, along with handing over control of eastern Jerusalem and setting the 1949 Armistice lines as borders. Abbas has previously clarified he would demand there be no Jews in territory given to him.
"We don't need more talks, rather decisions, all of Israel knows there won't be a fixed solution without eastern Jerusalem as the capital of the Palestinian Authority," Erekat said.
Labor head Yitzhak Herzog revealed back in December 2013 that he plans to divide Jerusalem and turn it into a dual capital, along with giving up massive swathes of Israel to create a Palestinian state.