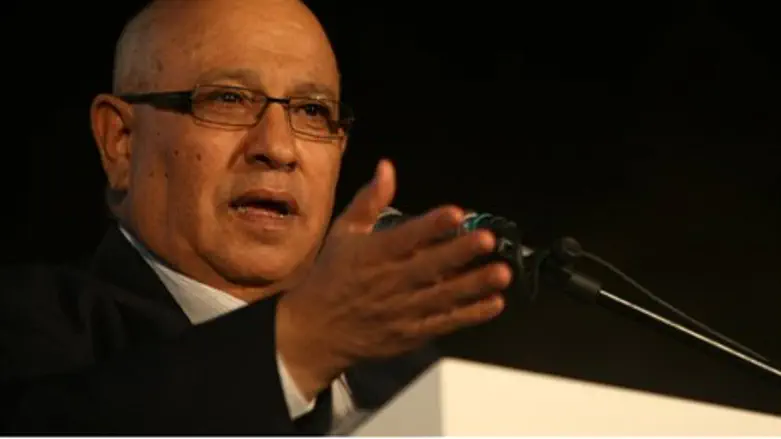 Meir Dagan
Flash 90
Former Mossad chief Meir Dagan is once again verbally attacking Prime Minister Binyamin Netanyahu and is also taking a jab at Jewish Home chairman Naftali Bennett.
In an interview with Channel 2 News which will air in full on Friday and of which parts were published Thursday evening, Dagan argues that Netanyahu's policies are "leading to a binational state or an apartheid state. I think it's a disaster."
"For 45 years I served this country - all of them, in order to safeguard its security as a Jewish and Zionist state. I would not want this dream to disappear," he continued.
"The reality is that the Prime Minister and Mr. Bennett are leading towards a binational state. You're not so sure that this country will continue to exist in the future. If this direction continues - I have some very complex questions," charged Dagan.
Since leaving his post as head of the Mossad, Dagan has continuously verbally attacked Netanyahu and his policies. The last such attack came in late January, after it was announced that Netanyahu had accepted an invitation to address Congress.
Dagan said then that Netanyahu and Bennett "are leading us to a binational state which is a disaster and dangerous to Zionism", adding, "The policies that they are leading are going in very problematic directions both in the field of the Palestinian problem as well as in our relations with our great friend, the United States. I admit that I am concerned."
Last year Dagan declared, contrary to Netanyahu's statements, that Israel could survive without maintaining a presence in the Jordan Valley. Other experts have warned that Israel's presence in the area is crucial.
He later dismissed Netanyahu's demand that the Palestinian Authority (PA) recognize Israel as a Jewish state as "nonsense".
He previously said he does not believe a nuclear Iran would be an existential threat to Israel and also said the Netanyahu government's policies on Iran are irresponsible, publicly warning against attacking Iran.
The Prime Minister's Office responded to Dagan's latest rant by saying, "Meir Dagan is wrong and misleading. Netanyahu is working for the security of the Israeli people from a comprehensive view of the good of the nation and the state and does not give in to international pressure. The reason is clear: any area that will be handed over to the Palestinians will be captured by radical Islam and terrorist groups supported by Iran."
"The Prime Minister's speech to Congress resonated around the world and presented the dangers to Israel and the world as a result of a bad agreement. There is no doubt that the Prime Minister challenged the powers to address these dangers," the statement added.