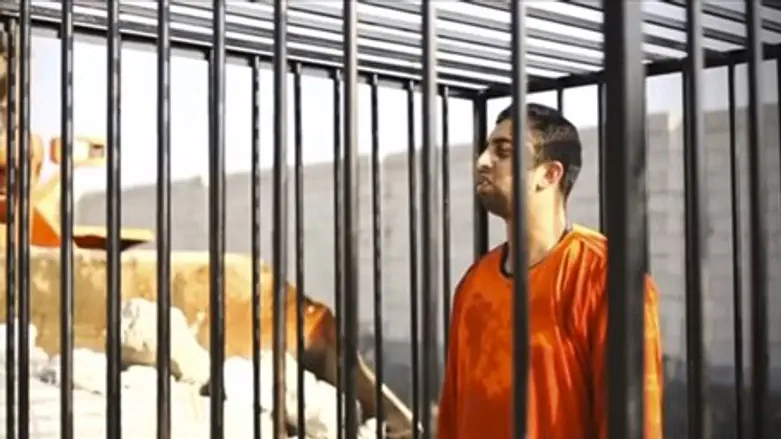 Still image from video of aMaaz al-Kassasbeh's brutal execution
Reuters
The Islamic State terrorist group (ISIS) reportedly broadcast footage of its fighters burning alive a Jordanian pilot in public areas throughout its de-facto capitol of Raqqa in northern Syria.
"Raqqa is Being Slaughtered Silently" - a group made up of anonymous activists who risk their lives to expose ISIS atrocities in areas under its control - first reported news of the gruesome spectacle, which played out throughout the city following the release of the video Tuesday. 
"Using large viewing screens and Movie projectors across the City of al Raqqa, #ISIS Played the Burning of the #JordanianPilot... Mouaz Al Kasasbeh for the public to watch over and over again..." the group said in a series of Twitter posts.
ISIS regularly publicizes its executions and other forms of brutal punishments as a way of instilling fear in local populations and discourage them against rebelling despite their desperate conditions. In Raqqa - once a hub of relative modernity in Syria - residents say they have suffered greatly since ISIS took over and implemented its authoritarian Islamic law, with food shortages and regular power outages compounding their misery.
The video is possibly the most gruesome yet by ISIS, which has tended to behead previous hostages.
In the slick, high-quality production, al-Kassasbeh is first seen sitting behind a desk addressing the camera and condemning coalition strikes against ISIS. After that, he is shown walking past rows of masked terrorists into a metal cage, while doused in petrol; once inside, one of the terrorists lights a fuse leading into the cage, and he is engulfed in flames. A tractor is then used to bury his charred body in rubble.
In revenge for the killing, Jordan announced it would be executing a number of ISIS-linked terrorists held in its prisons - a threat it carried out swiftly early Wednesday morning.
Despite only releasing the video yesterday, it soon emerged that ISIS had in all likelihood killed al-Kassasbeh a month ago, with Jordanian state TV reporting his execution took place on January 3rd.
And a tweet on January 8 by the head of Raqqa is Being Slaughtered Silently, who writes under the pseudonym "Abu-Ibraham al-Raqqawi", had detailed a conversation between ISIS fighters in which they gloated of having burned the Jordanian airman to death.
Abu-Ibrahim al-Raqqawi's tweet
Meanwhile, the fate of al-Kassasbeh appears to have had an effect on at least one member of the international coalition against ISIS, as reports surfaced that the United Arab Emirates pulled out of the air campaign against the so-called Islamic State after the pilot's capture in late December.
The UAE suspended air strikes after the capture due to fears over the safety of its own pilots, according to the New York Times. 
The United Arab Emirates want the US to improve its search-and-rescue efforts, including the use of V-22 Osprey tilt-rotor aircraft, in northern Iraq, closer to the battleground.
As it stands, the US-led mission is based in Kuwait, administration officials said, according to the Times.  
It said UAE pilots will not rejoin the fight until the Ospreys - which take off and land like helicopters but fly like planes - are deployed in northern Iraq.
Al-Kassassbeh was captured by ISIS terrorists within minutes of his plane crashing in December near Raqqa, Syria, but UAE officials questioned if American military rescue teams would have been able to reach the pilot even if there had been more time for a rescue effort, administration officials said.  
UAE's Foreign Minister Sheikh Abdullah bin Zayed bin Sultan Al Nahyan asked Barbara Leaf, the new US ambassador, why the United States had not put proper resources in northern Iraq for rescuing downed pilots, a senior administration official said, according to the Times.
Several rescue efforts do indeed appear to have been made to save the Jordanian pilot, including one on January 1st - just days before he was likely executed.
But that operation failed after special forces were forced to withdraw under heavy fire.
AFP contributed to this report.