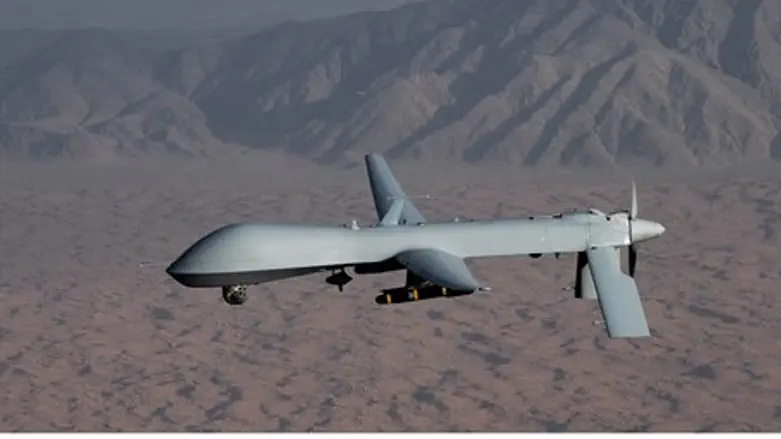 Unmanned drone (illustration)
Reuters
Arab media reported on Sunday night that Syria had downed an Israeli drone in the Golan Heights.
According to the report, which appeared on Hezbollah's Al-Manar television and on official Syrian TV, an "unmanned aircraft of the Zionist regime was downed over the skies of Quneitra, close to the border."
In response, the IDF said, according to Channel 2 News, that "the IDF does not respond to foreign reports."
Later on Sunday, the IDF Spokesperson said it was "unaware of any unmanned aircraft that was shot down in the Golan."
The report comes two weeks after Syria accused Israel of carrying out airstrikes against two government-held areas in Damascus province.
After the alleged Israeli airstrikes, Arab media outlets reported that the airstrikes targeted Syrian military sites that were being used to store arms destined for Hezbollah.
Shortly after the strikes, rumors circulated the sites - including Damascus International Airport and the Dimas airbase - were being used to store sophisticated weapons, including Russian-made S300 surface-to-air missiles.
Israeli officials have remained tight-lipped, as in previous apparently Israeli strikes against "game-changing" arms destined for Hezbollah.
But speaking to Kol Yisrael radio a day after the alleged airstrikes, Intelligence Minister Yuval Steinitz appeared to allude to the strikes, and reiterated that Israel would prevent sophisticated arms from reaching the hands of terrorists.
Syria, for its part, demanded that the United Nations impose sanctions on Israel in response to what it termed "the Israeli aggression on the Syrian soil".
In a letter addressed to UN Secretary-General Ban Ki-moon and the UN Security Council, the Syrian Foreign Ministry said that Israel "has committed a heinous crime against the sovereignty of Syria as Israeli warplanes attacked two safe areas in al-Dimas and near Damascus International Airport in Damascus Countryside, causing material damage in a number of institutions there."
The letter claimed, as Syria has done in the past, that "the attack is in the framework of extending help and support to the armed terrorist groups in Syria, especially after the series of achievements made by the Syrian army in Deir Ezzor, Aleppo, Daraa and other areas."