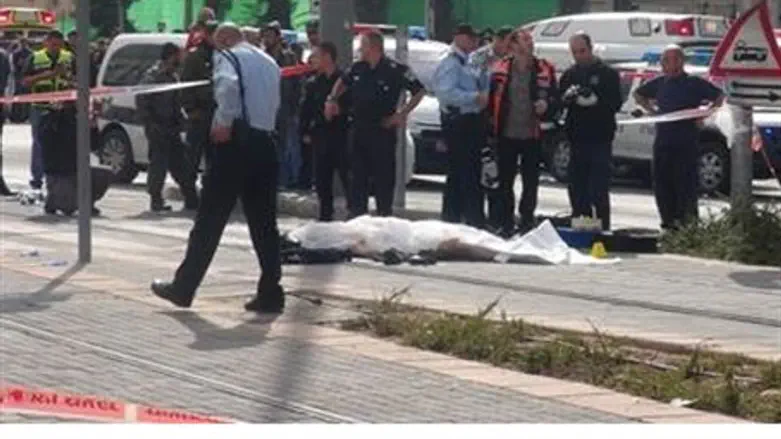 Aftermath of Al-Akari's attack
United Hatzalah
Hamas terrorist Ibrahim Al-Akari of the Jerusalem neighborhood Shuafat murdered two Israelis and wounded over 13 others in the capital last Wednesday - four days later, the UN- and EU-funded Al-Quds University in Jerusalem honored him by naming a tournament after him.
Al-Akari murdered Druze Border Patrol captain superintendent Jadan Assad and 17-year-old yeshiva student Shalom Ba'adani hy''d in an attack on the Shimon Hatzadik light rail station with his van, which he proceeded to exit and attack passersby with a metal bar before being shot to death by security forces.
Palestinian Media Watch (PMW) revealed that Al-Quds University's Physical Education Faculty head Dr. Ahmad Al-Khawaja organized "the martyr Ibrahim Al-Akari Tournament," as reported in Al-Ayyam on Tuesday.
According to Al-Khawaja, the tournament "was a national activity held in honor and appreciation of the soul of the heroic martyr Ibrahim Al-Akari."
Making the tournament all the more troubling is the fact that the university has deep financial ties to the UN and EU.
The UN last July announced a 2.4 million euro (nearly $3 million) donation from the EU and UNDP (United Nations Development Program) to the university meant to "contribute to the development and protection of Palestinian cultural heritage in the old city of Jerusalem," as written on the UNDP and university websites according to PMW.
Tracking the purse-strings further, PMW noted that the Burj Luq Luq Social Center Society which helped organize the tournament honoring the terrorist also sports several prominent Western donors.
Those donors last year included UNICEF, UNDP, the EU, the French and British Consulates, and others as enumerated in the Center's report for 2013.
Al-Quds University's decision to name the tournament after the Hamas terrorist comes after a similar move last week, when it allowed the Islamic Bloc, Hamas's student association at the school, to hold an exhibition called "At Your Command, Jerusalem" honoring three terrorists who have murdered Israelis in recent weeks.
"The exhibition included models of the Al-Aqsa Mosque and of ways of opposing the occupation, from stone (throwing) to car (attacks), stabbing and martyrdom-seeking operations," PMW reports citing Palestine Today.
The description continued that "on the walls of the Al-Aqsa Mosque model, pictures of the martyrs of the recent 'Al-Aqsa uprising' - Al-Akari, (Mu'taz) Hijazi and (Abelrahman) Shaludi - were displayed. They were described as the 'defenders of Al-Aqsa.'"