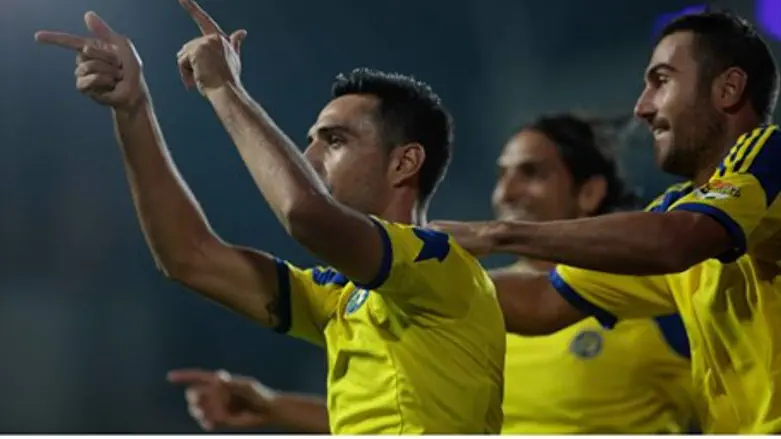 Maccabi Tel Aviv's Eran Zehavi
Official Facebook Page of Maccabi Tel Aviv
The shocking attack on Monday by a rabid fan of the socialist Hapoel Tel Aviv soccer club on an opposing Maccabi Tel Aviv player Eran Zehavi, which cancelled the "derby" match between the teams, has taken another unexpected loop.
Referee Roi Reinshreiber, who issued Zehavi a red card in the match despite the fact he was defending himself from the fan, submitted a report of the match on Tuesday.
"In the 31st minute a fan broke onto the field from balconies 4-5 populated by Hapoel fans, and started to hit the Maccabi Tel Aviv player Eran Zehavi," wrote Reinshreiber.
However, the referee went on to blame the player for defending himself, writing "the player, as part of self-defense, hit the fan with several shoves and a kick. This led to a clash on the pitch with fans of both sides, reserve players and professional crews."
Reinshreiber went on to note the objects thrown from the stands by Hapoel fans at Zehavi as he was led off the field for the red card the referee gave him, and the bursting onto the field by enraged Maccabi fans minutes after he started the match up again.
The referees' union has said Reinshreiber made a serious mistake to continue the match after Zehavi was attacked. However, they supported his move to dismiss Zehavi from the game.
The entire confrontation can be witnessed here:
Hapoel fan Elroi "Fuad" Yadai, a 32-year-old resident of Bat Yam located south of Tel Aviv, has been identified as the rabid fan who attacked Zehavi.
Police said mere hours after the attack that Yadai had planned his incursion in advance, and aimed to create a provocation with Zehavi.
What they neglected to mention was that Yadai has a long history of radical behavior, and was banned from attending the "derby" match on Monday on penalty of a year jail sentence, after having been released two weeks earlier from house arrest.
Yadai's infringements include an incident in 2007 when he was arrested for incitement to murder at a Hapoel game. He was given a 1,000 shekel (just over $250) fine and a 45-day distancing order from Hapoel games.
That same year, Yadai was one of a group of fans who went to the home of then-owner of the team Eli Taviv and threatened him. Taviv submitted a complaint to the police against Yadai for murder threats - he was summoned to the police station but released the same day.
On Tuesday, Yadai's detention was extended by three days at the Tel Aviv Magistrates Court. Outside the courthouse, clashes broke out between Hapoel and Maccabi fans, with three fans being arrested - including the son of MK Dov Khenin of the radical communist Hadash party.