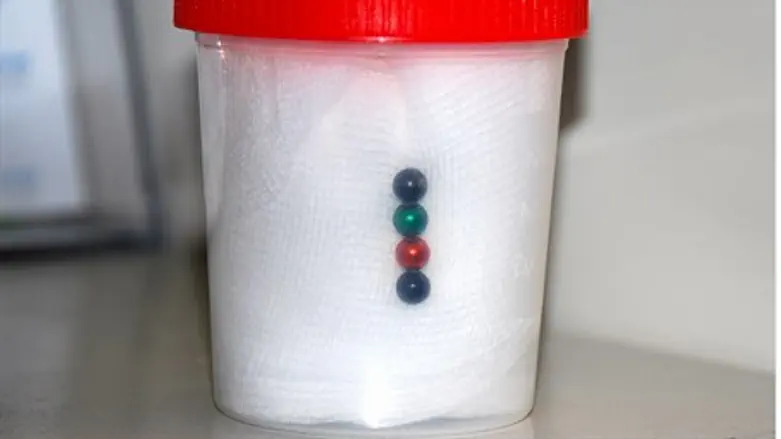 The string of magnets that were swallowed
Schneider Center Spokesperson
There has been a recent series of incidents in which children swallow magnetic beads; on Sunday, the latest small victim of the dangerous toys was brought to the Schneider Children's Medical Center in Petah Tikva.
The two-and-a-half year old infant girl had swallowed a string of four small round magnets which attached to each other and stuck to her large intestine.
Because she arrived a full two days after swallowing the beads, doctors were forced to extract them through a colonoscopy procedure; afterwards she was sent to the children's department for observation before being sent home.
The extraction was urgent, given that the magnetic attraction can cause the different magnets to press together and lead to a perforation of the intestines, a development that can cause severe stomach infections and even death.
One unfortunate 10-month-old suffered such perforation earlier in the month, leaving doctors no choice but to perform surgery and extract the magnets, afterwards repairing the damage to the intestines.
Another child, this time a two-year-old boy, swallowed a row of four magnets around a month ago and was likewise brought to the Schneider Medical Center.
A gastroscopic examination revealed them to be in the duodenum section of the small intestine, in the reach of an endoscope. Through a careful procedure performed under anesthetics, doctors managed to remove the magnets and later sent the boy home without any need for surgery.
One of the first in the recent series of magnet swallowing cases occurred on July 1, when eleven magnets were removed via endoscopy from the stomach of a 2.5-year-old infant girl who complained of stomach pains.
Dr. Shlomi Cohen, sub-Director of the Gastrointestinal Unit for Children at the Dana Children's Hospital in Tel Aviv which treated the girl, noted that the greatest danger in such a case "is that the magnets could have gotten stuck to the two sides of the intestines and created a closure, causing local necrosis."
Cohen and doctors at the Schneider Medical Center all warned parents to keep magnet beads far from the reach of small children, and in a case where it is thought a child has swallowed magnets to bring the child for treatment immediately.