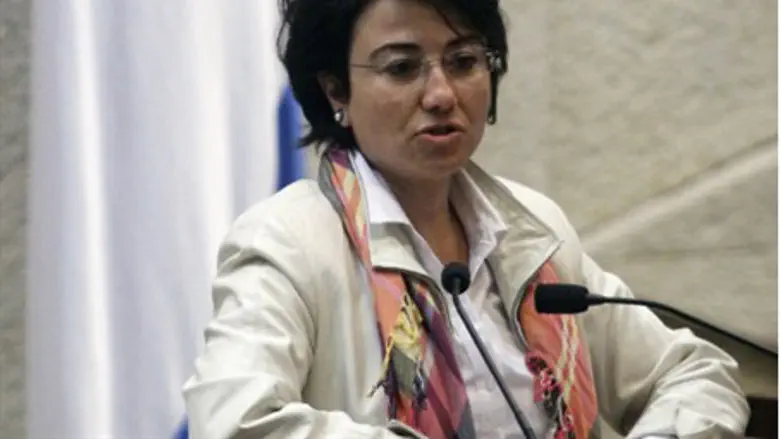 MK Hanin Zoabi
Flash 90
Attorney General Yehuda Weinstein said on Tuesday that MK Hanin Zoabi must report for questioning by police on suspicion of inciting violence and insulting a public official.
Weinstein's directive came after Zoabi, who was summoned for questioning for remarks she made against police, more than once refused to show up, at one point claiming she has "no time" to sit for the police investigation. 
Instead of showing up for the questioning, Zoabi, through her legal representatives, asked the Attorney General's office to see the investigation material before she is questioned.
The Justice Ministry said in a statement on Tuesday that Zoabi's request for material was rejected, noting that police are not obligated to transfer any information to a person before questioning, even if that person is a member of Knesset.
"No one disputes the importance of the right to consult with an attorney and MK Zoabi can consult with a lawyer. However, no interrogee has the right to receive a 'description of the events and the allegations' ahead of time," said the Justice Ministry.
Furthermore, the statement said, the law does not provide MKs with immunity from being questioned by police.
According to the statement, parliamentary immunity provides MKs with immunity from being searched, wiretapping, detention, and immunity from criminal proceedings, but police questioning is not included in the law.
Zoabi has been linked to Hamas on multiple occasions, and is infamous for provocative speeches, including one in which she said that Israel has "no right to a normal life" and a later address claiming that "the Israeli occupation" was behind the murder of Israelis in Bulgaria. Recently, she declared that Israel should "thank her" for allowing Jews to live in the Jewish State. 
The anti-Israel MK was thrust back into the spotlight last month, after making a series of remarks defending Hamas's horrific abduction and murder of three Israeli yeshiva high school students.
In the remarks, Zoabi refused to call their murderers "terrorists" and insisted that the abduction was a "legitimate" way to "fight the occupation." 
More recently, Zoabi wrote an article encouraging Hamas on the terror group's website, and was briefly handcuffed during violent pro-Palestinian protests in Haifa.