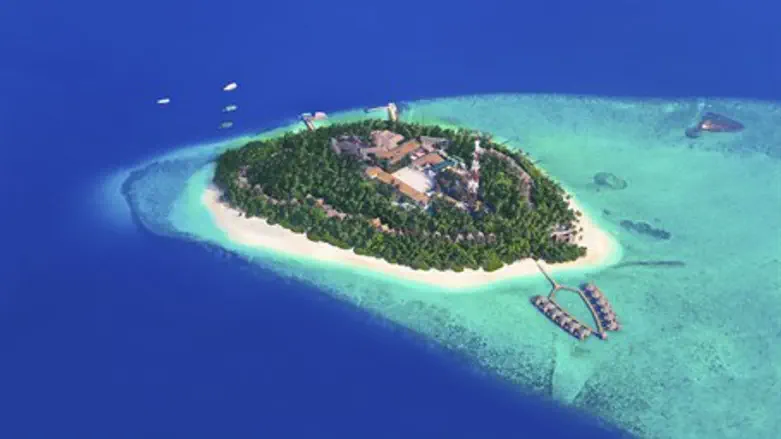 The Maldives: Sun, sea, and... Islamists?
Thinkstock
Israeli holiday makers were evacuated from their Maldivian resort after one of them tore up an anti-Israeli placard equating the Nazi Swastika to the Israeli flag, officials said Wednesday.  
Some 30 Israeli surfers were moved out to safety from Thulusdhoo island, near the capital island Male, as residents of the overwhelmingly Sunni Muslim archipelago protested the pulling down of anti-Israeli placards.
Tensions rose after an Israeli man tore down the placard daubed with a Swastika which had been pinned to a coconut tree. Equating Israel with Nazi Germany is extremely offensive to Israelis and Jews around the world, who see it as a form of anti-Semitism by unfairly demonizing the Jewish state through targeting specifically Jewish sensitivities.
Minister at the Maldivian President's Office, Mohamed Shareef, said they evacuated the tourists for their own safety.  
"There could have been an ugly incident and that is why the tourists were evacuated from the resort," Shareef told AFP by phone.
He said Israelis were not banned from entering the archipelago, better known for its upmarket tourism, but the Maldives was bitter with Israel over the violence.
"We have not banned them, but Israeli tourist must remember that they are visiting a 100 percent Muslim country," Shareef said. "We unequivocally and unconditionally support the Palestinian cause."
He said the Maldives had also put in place measures to express their opposition to Israel.  
The Maldives this week began implementing a ban on Israeli-made goods and also abrogated three cooperation agreements on health, tourism and education.
"Imports from Israel are small, but we are banning imports as a token measure," Shareef said adding that the three bilateral agreements entered into by a previous administration in 2009 had largely remained on paper.
The Maldives, which is known for pristine beaches and secluded coral islands popular with honeymooners, attracted over a million tourists last year of which less than one percent came from Israel.
Maldivians have also begun collecting money to help Palestinians in Gaza where Israel's operation to end rocket fire and destroy "terror tunnels" into Israel is now in its 23rd day.Over 1,000 people are believed to have been killed during Operation Protective Edge, including hundreds of Hamas and Islamic Jihad terrorists.