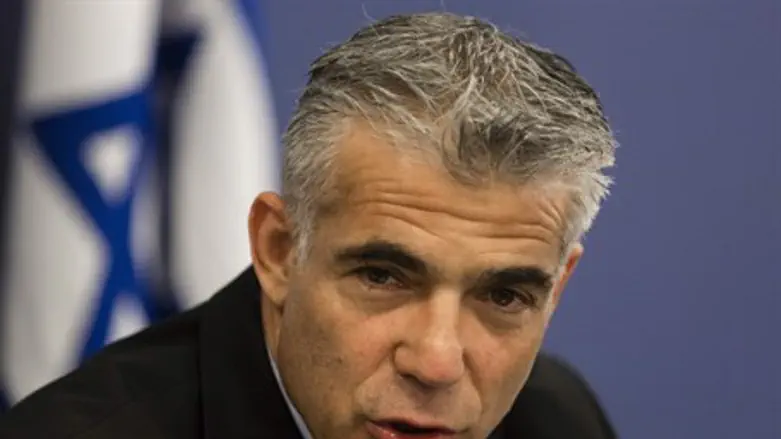 Yair Lapid
Flash 90
Finance Minister Yair Lapid (Yesh Atid)'s plan to cut out value-added tax (VAT) payments for first-time homebuyers – but only those who have served in the IDF – will never hold up in court, according to the Knesset's legal advisor, Eyal Yinon.
The law "does not stand up to the criteria of accepted norms of equality," Yinon said.
Lapid's plan has been adjusted several times in order to ensure that it does stand up to legal scrutiny. Originally, the law was to exempt IDF veterans from paying 18% VAT on apartments up to NIS 1.6 million.
The exemption would apply to first-time homebuyers, and needed to be within the median price for a home in the neighborhood the home is located in.
There was to be no exemption for those who did not serve in the IDF – a situation that various legal experts told Lapid would be rejected by the High Court out of hand.
Lapid subsequently added an exemption for non-veterans, but only for homes valued up to NIS 600,000. Here, too, Lapid faced a great deal of criticism, because finding a new home at that price level is virtually impossible. Lapid then raised the exemption roof for those who did not serve to NIS 900,000.
Even though the gap is narrower, said Yinon, the court would still not approve a discriminatory differentiation like the one Lapid proposed.
Also criticizing the plan was Bank of Israel chairperson Karnit Flug. At a meeting of the Knesset Finance Committee, Flug said that the plan was likely to raise demand – and thus prices – having the opposite effect that Lapid claims to intend.