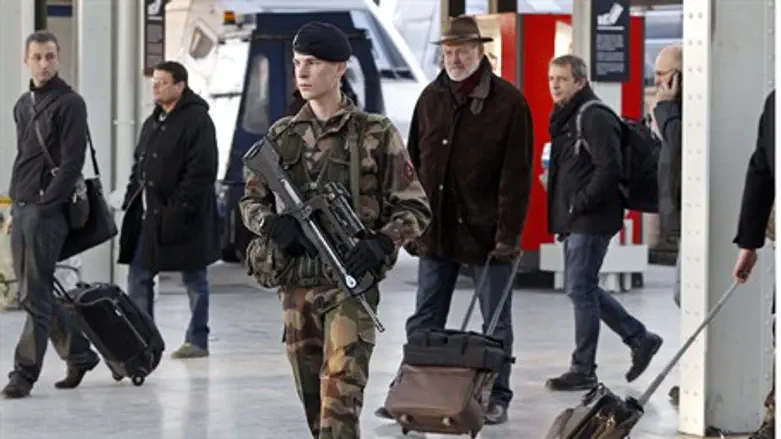 Airport security
Reuters
The U.S. Department of Homeland Security (DHS) is increasing security measures at airports overseas amid deepening concerns that terrorists in war-ravaged Syria are trying to develop a new generation of bombs that could be smuggled onto commercial planes, ABC News reported.
In a statement Wednesday afternoon, DHS Secretary Jeh Johnson said his department has been assessing "the global threat environment," and he has directed the Transportation Security Administration "to implement enhanced security measures in the coming days at certain overseas airports with direct flights to the United States."
Sources told ABC News that DHS was planning to issue a series of urgent directives to airport authorities and airlines operating in Europe and elsewhere, requiring them to further scrutinize U.S.-bound passengers' electronics and shoes, set up more explosives detection machines, increase random screenings of travelers, and take a series of secret actions the public would never see.
 "We will work to ensure these necessary steps pose as few disruptions to travelers as possible," Johnson said in his statement. "We are sharing recent and relevant information with our foreign allies and are consulting the aviation industry."
One source said such a decision to enhance security measures overseas "is never a decision that [DHS] makes lightly."
"It's something that has to be warranted," the source said. "It has to be something particularly serious for [DHS] to even consider increasing security."
Announcement of the new measures comes several days after it was reported that U.S. officials had learned that associates of the Al-Qaeda affiliate in Syria - the Al-Nusra Front - and radicals from other groups were teaming up with elements of the Yemen-based group Al-Qaeda in the Arabian Peninsula, which built such innovative devices as the "underwear bomb" that ultimately failed to detonate in a plane over Detroit in 2009.
While intelligence obtained by the U.S. government has not indicated a specific target or a specific timeline, one source called the threat "different and more disturbing than past aviation plots."
Asked Monday by ABC News whether his European counterparts were doing enough to address the threat emanating from Syria, FBI Director James Comey said European authorities are "doing a tremendous amount of work" but that it was "hard for [him] to say" if it's enough.
U.S. officials have been outspoken about the dangers posed by Al-Qaeda in the Arabian Peninsula and – separately – the threat of foreign fighters in Syria, the latest intelligence shows that the two threats have bonded in an unusually powerful way, essentially creating a sum more worrisome than its parts, according to ABC News.
Western powers have already expressed concern that some of their citizens have traveled to fight in the civil war in Syria, some of them joining extremist groups that might one day seek to strike their home countries.
It has already been confirmed that one American citizen carried out a suicide bombing within Syria; in February it was estimated that at least 50 U.S. citizens are fighting in Syria against Assad, and are liable to bring terrorism back to their home country once the war is over.