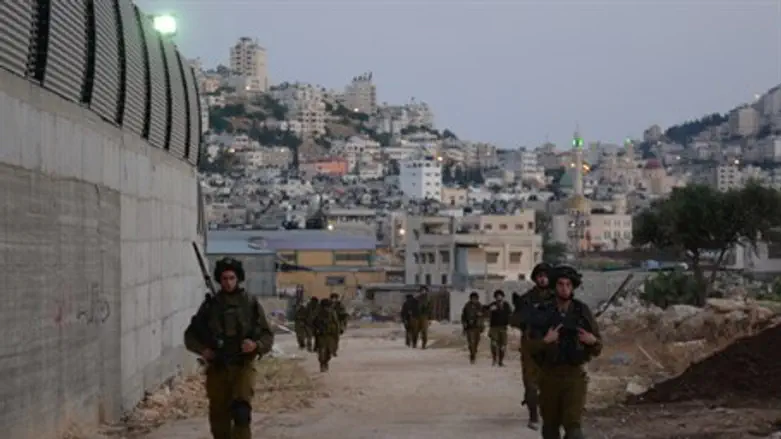 IDF forces in Samaria
Flash 90
IDF Operation Brother's Keeper to return the three kidnapped teens is aiming to destroy Hamas's terror infrastructure in Judea and Samaria, and an important part of that mission appears to be decommissioning the group's media tools of incitement.
Security forces raided on Tuesday night the "Al-Aqsa Radio Station" offices of the Hamas movement, in Ramallah, which is in Samaria, and in the Judean city of Hevron, reports Channel 10.
The move is part of a larger recent crackdown; the Al-Ayyam newspaper group announced last Thursday it will stop printing and distributing Hamas newspapers Falastin, Al-Resala and Al-Istiqlal, saying the decision was made after an alleged phone call from the IDF threatening to close the newspaper group if it did not stop publishing the papers.
The IDF reportedlyraided Al-Ayyam's offices last month as well and issued similar orders to stop printing the terrorist organization's papers.
Also as part of the crackdown on incitement, Israeli police raided the Jerusalem studios of the Palestinian Authority (PA) official TV two weeks ago, briefly detaining three staff for questioning over incitement to violence
The PA broadcasting authority in Ramallah responded, claiming "we have the right to broadcast from Jerusalem according to the Oslo Accords." PA obligations to the 1993 Oslo Accords were cast aside two weeks ago as a unity government with Hamas was sworn in; the police crackdown may have been part of the Israeli response to the move.
Also on Tuesday night, a senior IDF source said that checkpoints that had been open for unfettered Arab traffic until now have been closed, including in the area of Beit Hagai, directly south of Hevron.