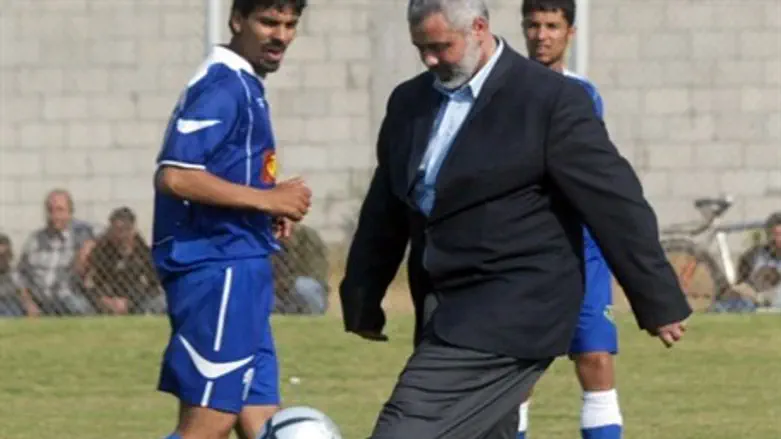 Hamas leader Ismail Haniyeh on the soccer pit
Flash 90
Minister of Culture and Sport Limor Livnat (Likud) sent a letter on Tuesday to FIFA President Sepp Blatter, over reports that a player for the "Palestine" national soccer team manipulated his position to work for the terrorist organization Hamas.
The player, Samah Fares Mohammed, was given permission under the FIFA framework to go abroad to play in a game in Qatar this April.
Reports expose that while there, he met with a Hamas terrorist and received money, a cell phone, and written messages to pass to Hamas members in the PA-controlled city of Kalkilya, a hotbed of terrorism, upon his return.
Mohammed admitted to meeting Hamas terrorist Talal Ibrahim Abed Elrahman Sarim several times. Sarim received was jailed for life by Israel for his crimes, before being released and expelled abroad in the Gilad Shalit deal that freed 1,027 terrorists, after which he returned to Hamas terrorism.
In addition, Mohammed admitted that before leaving for Qatar, he received requests from several senior Hamas figures, including the owners of his soccer team, ordering him to meet with Sarim abroad.
"The player acknowledged that he was aware that he was meeting with a Hamas member and doing a service for Hamas," wrote Livnat. "All this through a cynical manipulation of the exit permit for sports activities, so as to advanced Hamas activities in the field."
The minister continued, writing "I'm certain you will find this information to be concerning, and clear evidence of an improper use of sport to endanger the security of Israeli citizens."
Livnat referenced Blatter's visit to Israel in late May, when he called for a separation of politics and sport and asked for Palestinian Arab soccer players to be allowed freedom of movement through Israeli territory.
"I turn to you in accordance with the spirit of the words at our Jerusalem meeting; please demand that the Palestinian Authority (PA) condemn the incident, and work to prevent recurrences," wrote the minister.
It is worth noting that the PA recently signed a unity agreement with Hamas, and swore in a unity government last Monday which includes three Hamas-backed ministers from Gaza.
The US has said it is willing to "work with" the unity government, following PA Chairman Mahmoud Abbas's pledges that he would control it, and that it would not include Hamas. However, a former Hamas government spokesman revealed Sunday that Abbas has said in private meetings with Hamas that he is lying in public statements to "trick the Americans."