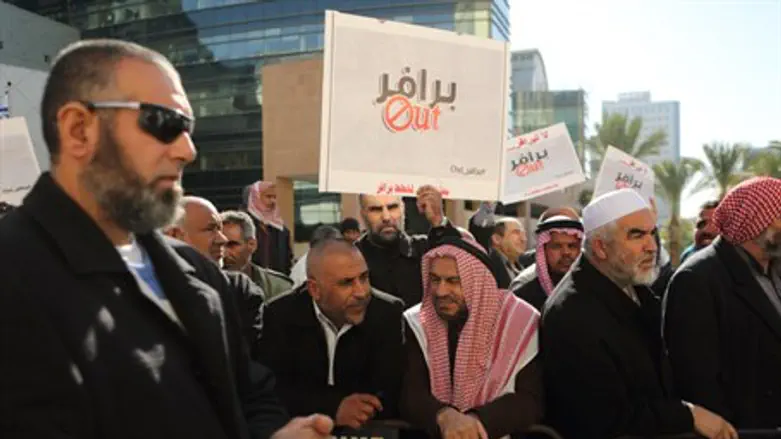 Islamic Movement in Israel protest
Flash 90
The Israeli government has begun discussions on declaring the Islamic Movement in Israel an illegal organization.
Sheikh Kamel al-Khatib, deputy leader of the organization, told the terrorist organization Hamas's journal "Palestine" on Tuesday that he was not surprised by the discussions, adding that during former Prime Minister Ariel Sharon's administration the topic was raised.
Israel would be able to base the move on similar decisions last year made banning the Muslim Brotherhood, a close ally of Hamas, in Egypt, Saudi Arabia and the United Arab Emirates (UAE), remarked al-Khatib cynically.
Al-Khatib stated that Israel was "frightened" by the Islamic Movement's activities in Jerusalem, such as the group's leader Sheikh Raed Salah's call for followers to physically block Jews from entering the Temple Mount, as well as the group's involvement in the violent "Nakba Day" protests opposing Israel's existence.
The deputy leader of the group also said the government's consideration of blocking the group may be connected to the "bugging" of Salah's office, a claim made by al-Khatib last Tuesday.
"Illegal everywhere - except in Israel"
Transportation Minister Yisrael Katz (Likud) commented on the proposed banning of the movement on Sunday.
Writing on Facebook, Katz noted "today in the government I raised the topic of banning the Islamic Movement in Israel, headed by Sheikh Raed Salah. The prime minister supported my position vigorously, and even noted that a team has been established to investigate the topic."
However not all members of the government were on board with the initiative apparently, for "it became clear that the Justice Ministry," headed by Just Minister Tzipi Livni, opposed the move, according to Katz.
"How absurd. In all countries in the region they are illegal, and only in Israel they incite and strive freely against the existence of the state. We need to put an end to this," argued Katz.
Aside from inciting followers to violence on the Temple Mount, Salah was let off with a 9,000 shekel (roughly $2,500) fine last week over disruptive behavior in the Allenby crossing to and from Jordan - in 2011 he was arrested for slapping a security officer as his wife was being searched.
Salah was jailed for five months in 2010 for spitting at an Israeli police officer. Last year he labeled Israeli leaders "terrorists" and "enemies of Allah" in a speech to Muslims in Be'er Sheva.
After Salah was given a suspended eight month sentence in March for incitement regarding the Temple Mount, Attorney Itamar Ben-Gvir faced off against him and his supporters in front of the court, saying: "terrorists, in any normal country they would send you all for life sentences, enough of this legal helplessness and the State Attorney's policy that gives you an easy time."