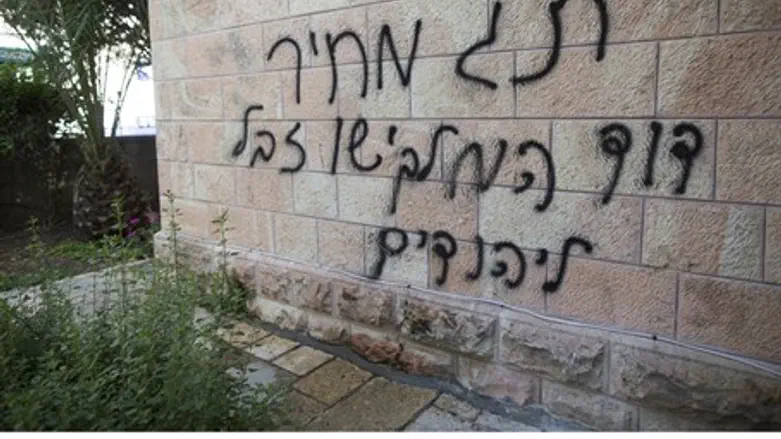 'Price tag' graffiti
Flash 90
Police on Tuesday arrested four "price tag" vandalism suspects in the northern town of Yokneam, south-east of Haifa, over suspicion of involvement in graffiti crimes in the city.
"Four people suspected of acts of racist vandalism in the town of Yokneam were arrested and questioned by the police and the Shin Bet (internal security agency)," police spokesman Micky Rosenfeld told AFP.
AFP noted reports that one of the four had admitted to vandalizing a dentist's office in the city belonging to a Druze Arab dentist.
Police had their request to extend the detainment of another of the four suspects, a young resident of Yokneam, rejected by a local judge.
The youth in investigation denied the crimes he was suspected of. On Tuesday afternoon he was brought to a Magistrates Court, where he was represented by Attorney Ran Shoham of the Honenu legal aid organization. Police investigators requested a large eight-day extension, which Judge Lili Jung-Goffer rejected, ordering the youth to be released.
"The judge ruled that the investigation has been ongoing for two weeks, and that despite there being reasonable suspicion, there's not enough evidence to justify continued detention," said Shoham. "Additionally the court gave consideration to the fact that during that period (of investigation) my client was free."
In the court ruling, the judge ordered to have the youth released to house arrest for eight days, but agreed to the police's request to delay the release so as to appeal the decision.
Describing the youth, Shoham noted "this is a normative person, with no criminal past, who never has been arrested. He strongly denies being connected to the story. Instead of waiting for firm evidence, they rushed to arrested him without any proof justifying it, apparently just because it's a hot topic in the media."
"Price tag" - a hot topic
There have been many arrests over "price tag" suspicions of late, many of them accompanied by reported breaches of fundamental rights.
The parents of five youths arrested on such suspicions protested outside of the Petah Tikva Magistrates Court on Monday, demonstrating against the discussion on extending their children's detention which was being held without legal representation.
A couple arrested in late April over suspicion that their car was involved in "price tag" also reported being refused access to a lawyer, and that investigators told them "you'll never see your children again." In another case, a woman was arrested last Sunday, after the arrest of her teenage son allegedly went nowhere. Her son had been detained the previous week after he and another youth were found with markers and nails in their bags.
Authorities have also been accused of hysteria, after it was revealed that public funds were being used to fund a drone continuously monitoring a man who was arrested on suspicion of an arson attack on Arab-owned orchards in March.
Meanwhile an Arutz Sheva report in January revealed that in at least some of the cases, anti-Arab "price tags" were being systematically staged by Arab activists. There have also been numerous incidents of Arab "price tagging", including on the graves of Tannaic scholars in the north and swastikas scrawled on Israeli flags in the heart of Jerusalem, both on the same week as Independence Day. Such incidents receive notably less, if any, media attention.