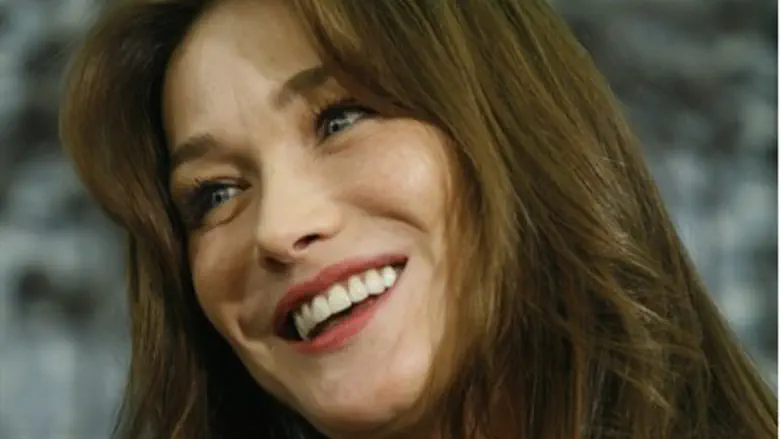 Carla Bruni
Flash 90
Carla Bruni, the wife of former French President Nicolas Sarkozy, said she is "crazy about Israel" in an interview published last Friday.
Bruni, the 46-year-old Italian-born singer and former model, spoke to Yedioth Ahronoth ahead of her May 25 concert in Tel Aviv's Habima Theater. The performance will promote her album "Little French Songs" that was released last year.
Regarding the possibility that her husband will join her in coming to Israel, Bruni said "I hope it will happen. He loves Israel so much, I think he'll do everything in order to come."
"I'm crazy about Israel. It's full of life," stated Bruni, noting she has visited the Jewish state twice in the past, first as a model and then on a state visit as the president's wife.
Speaking about her son Aurelien, Bruni added "maybe if my husband comes we'll stay for a couple of days more. I want to bring my son to Israel for him to get to know it."
Jewish roots?
Aurelien, who was born in 2001, is the son of a relationship with philosopher Raphael Enthoven. The boy was given a circumcision and baptism, said Bruni, adding "his father is Jewish and I give him the gift of both heritages."
Bruni herself is the daughter of a Jewish father. She noted that Sarkozy had a Jewish grandfather, and also that his grandson Solal is Jewish, given that Sarkozy's son Jean married the Jewish heiress Jessica Sebaoun.
"Jean married Jessica, who is Jewish and is the only observant one in her family," commented Bruni.
France has witnessed a sharp rise in anti-Semitism in recent years, as seen in a massive Paris rally in January on the eve of International Holocaust Remembrance Day, in which hundreds of protesters shouted "Jews out of France!" and other anti-Semitic slogans.
The Jewish Agency said that by late March, 854 French Jews had immigrated to Israel in 2014, as compared with 274 in the same period in 2013. The increase constitutes a 312% rise in aliyah (immigration).