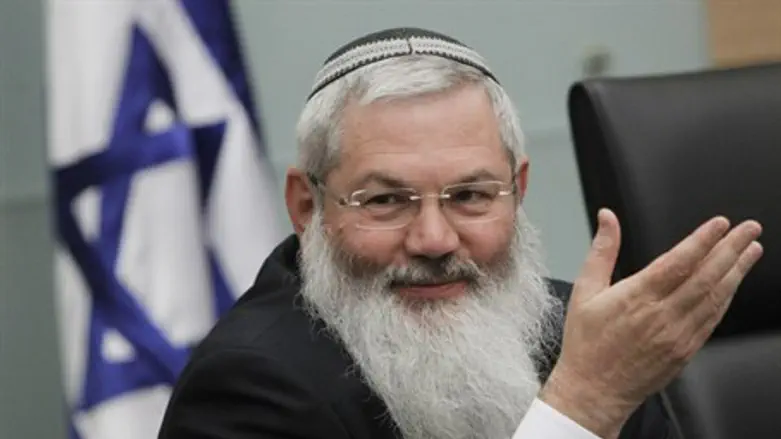 Rabbi Eli Ben-Dahan
Flash 90
Deputy Religious Affairs Minister Eli Ben-Dahan (Jewish Home) slammed the ongoing waves of incitement against the Religious Zionist community by hareidi rabbis and public figures on Monday, noting that mudslinging is against Jewish Law (halakhah). 
"I am saddened at remarks made recently against Rabbi Shlomo Aviner, the greatest Torah scholar we have today, as a 'sinner and evildoer, an Amalekite'," Rabbi Ben-Dahan noted, referring to the a leading Religious Zionist figure and rosh yeshiva (dean) of Jerusalem's Ateret Cohanim yeshiva.
"These are remarks that have no place," he added. 
The Deputy Minister was attending the opening of a course for burial attendants at Ariel University. 
"Remarks that call other rabbis 'idiots' and 'animals' - so said Rabbi Badani," Rabbi Ben-Dahan continued, referring to an inflammatory speech by the Shas official Saturday night. "What are these words, these terms?!" 
"These remarks are forbidden [according to Jewish Law - ed.] to say - and I hope that Chief Rabbi Lau, who is sitting here with us today, condemns this with all his power," he continued. "We all have to work together to prevent desecrating G-d's name. These words only serve to do that." 
Incitement against the Religious Zionist community has escalated recently, after the hareidi community has taken the calls for a draft as a personal attack not only by Yair Lapid - who helped spearhead the Shaked Committee which is behind the new draft laws - but also against Religious Zionists, who they accuse of deliberately harming the hareidi public. 
Hareidi leaders have spit fire at the Religious Zionist leadership; a major hareidi newspaper published inflammatory comments about major Religious Zionist rabbi, Rabbi Haim Druckman; and an incitement campaign against Naftali Bennett, who leads the Jewish Home party that is largely seen as representing the Religious Zionist public, has been initiated depicting the MK as a Nazi burning Torah scrolls. 
Hareidi leaders have compared the backlash against the draft to resistance against Nazi Germany, political uprisings in the Ukraine, a "fight to the death" for Torah values, and the struggle against the ancient Persians in the Purim story.