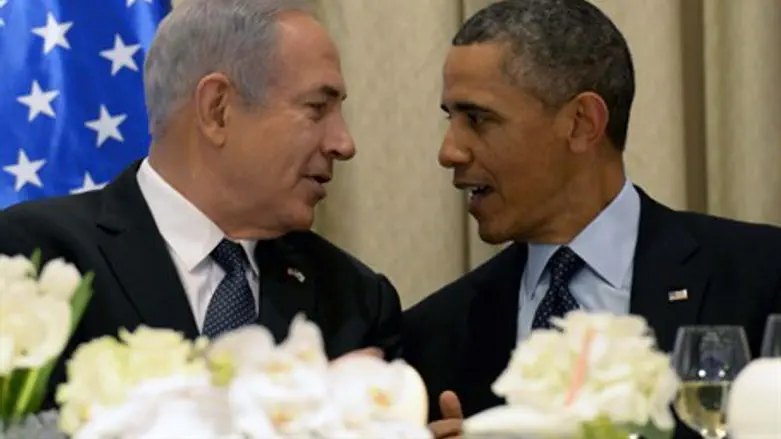 Netanyahu and Obama (archive)
Flash 90
One day ahead of his meeting Monday with Prime Minister Binyamin Netanyahu, U.S. President Barack Obama is urging the Israeli leader to make peace with the Palestinian Authority (PA).
Speaking to Bloomberg's Jeffrey Goldberg in an interview published Sunday, Obama warned that time was running out to negotiate a peace agreement.
Obama further claimed that PA Chairman Mahmoud Abbas "is sincere about his willingness to recognize Israel and its right to exist."
"We are coming to a point, though, over the next couple of months where the parties are going to have to make some decisions about how they move forward," he said. "And my hope and expectation is that, despite the incredible political challenges, that both Prime Minister Netanyahu and Abbas are able to reach past their differences and arrive at a framework that can move us to peace."
Pressing Netanyahu not to put off the hard decisions on peacemaking, Obama invoked the prime minister's nickname and paraphrased the words of revered Jewish sage Hillel.
"When I have a conversation with Bibi, that's the essence of my conversation," he told Goldberg. "If not now, when? And if not you, Mr. Prime Minister, then who? How does this get resolved?"
If the peace talks fail, Obama warned, the U.S. will have limited ability to protect Israel from what he called "international fallout."
"I do believe if you see no peace deal, and continued aggressive settlement construction -- and we have seen more aggressive settlement construction over the last couple years than we've seen in a very long time -- if Palestinians come to believe that the possibility of a contiguous sovereign Palestinian state is no longer within reach, then our ability to manage the international fallout is going to be limited," the president said.
In his interview with Goldberg, Obama praised the "extraordinary job" being done by Secretary of State John Kerry, who is trying to push the sides to agree to a "framework".
Obama also said Kerry has explored Israel's security needs with the help of Army General John Allen, the former U.S. commander in Afghanistan.
"They've come up with a plan for how you would deal with the Jordan Valley, how you would deal with potential threats to Israel, that are unprecedented in detail, unprecedented in scope," he told Goldberg.
The president said he hasn't commented on the negotiations much in recent months because "it doesn't serve anybody's purposes for me to be popping off in the press about it."
He added that the Israelis have a promising negotiating partner in Abbas, whom he described as "sincere about his willingness to recognize Israel and its right to exist; to recognize Israel's legitimate security needs; to shun violence; to resolve these issues in a diplomatic fashion that meets the concerns of the people of Israel. And I think this is a rare quality not just within the Palestinian territories, but in the Middle East generally. For us not to seize that opportunity would be a mistake."
Obama's comments come after a report last week which said that the president will make an "urgent appeal" to Netanyahu to accept Kerry's plan during their meeting on Monday.
The announcement was also made a day after Kerry, who has been mounting an exhaustive diplomatic push, said that his quest to seal a full Middle East peace deal will slip beyond an April deadline.
PA sources told the Arabic-language international newspaper Al-Sharq Al-Awsat on Sunday that "this time, Obama will intervene forcefully and directly, and will apply pressure to Netanyahu and Abbas, so that they agree to a framework agreement."
According to these sources, the framework agreement will determine that the capital of the Palestinian state will be eastern Jerusalem, and in exchange, there will be Palestinian concessions in other matters, including borders and refugees.
The PA's chief negotiator, Saeb Erekat, rejected any extension of the talks, claiming that there is no point in doing so as long as Israel "continues to disregard international law."
The issue of Iran and the interim nuclear deal also came up in Obama's interview with Goldberg, with the president dismissing arguments that the limited sanctions relief is leading businesses to rush back to Iran, though he did not directly address Netanyahu's vocal objection to the deal.
Obama told Goldberg that 95 percent of the sanctions remain in place and "we're going to enforce them, and we've been enforcing them during the course of these discussions."
Asked how Iran views his "all options on the table" threat, which alludes to the possibility of military action if Iran seeks the ability to produce nuclear weapons, Obama said, "I know they take it seriously."
"We have a high degree of confidence that when they look at 35,000 U.S. military personnel in the region that are engaged in constant training exercises under the direction of a president who already has shown himself willing to take military action in the past, that they should take my statements seriously," he added. "And the American people should as well, and the Israelis should as well, and the Saudis should as well."