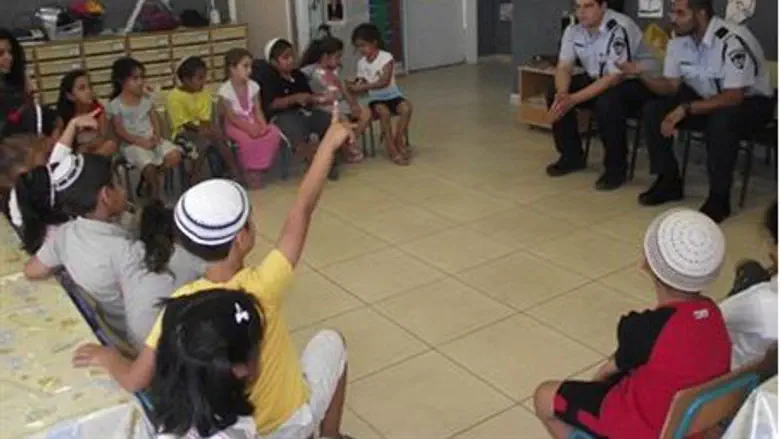 Police visit preschool in Nitzan
Israel news photo: Avinoam Goelman
A national service (sherut leumi) volunteer who explained the Disengagement to kindergarten students has been told to leave, Maariv/nrg reports.
The volunteer was fired from her position at a school in Tzoran following an incident that occurred during an activity in the kindergarten class.
The young woman was running an activity for the kindergarten children when one asked her to explain her shirt, which mentioned Gush Katif. She briefly explained the basics of the Israeli withdrawal from Gaza and northern Samaria in the 2005 "Disengagement."
Parents who heard the story turned to the principal and demanded that the volunteer be barred from the school for "teaching politics to young children."
Sar-Shalom Jerby, head of the National Service network, intervened Thursday on the young volunteer's behalf. Jerby sent a strongly worded letter to Michal Cohen, Directory-General of the Education Ministry, demanding that the volunteer be reinstated.
The school's reaction is unacceptable, Jerby said, particularly since the volunteer was not attempting to send a political message, but rather, merely explained what the Disengagement was.
"Civilian Service volunteers give a year or two of their life for the sake of Israel and Israeli society. They come from all walks of life, and from all sectors of Israeli society. If every time a controversial topic came up in a school, or even a preschool, volunteers would be fired for giving answers – in a few days we'd have no more volunteers in the school system," he argued.
"I expect that in this case, the volunteer not be made to pay the price of the principal's intolerance," he urged.
The incident follows controversy over left-wing teacher Adam Verete, who faced a disciplinary hearing after a student accused him of pushing an extreme-left worldview in the high school in which he taught, and of mocking students who voiced disagreement.
Verete was let off with a warning.