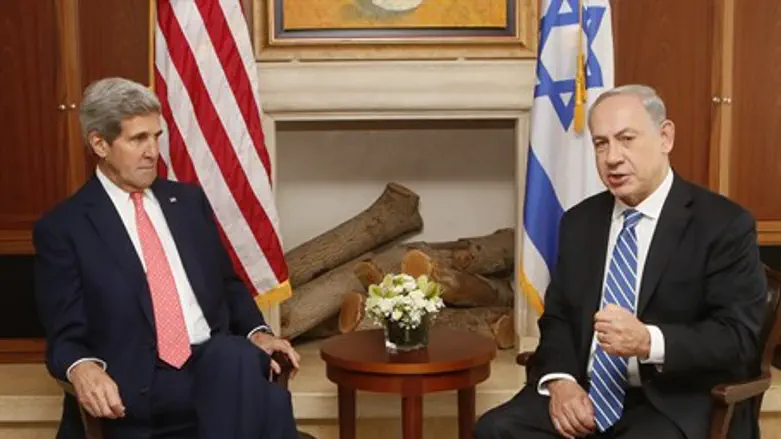 Kerry and Netanyahu
Flash 90
The US may be in a bit of a political snafu, a new poll reveals. 
The Truman Institute revealed statistics Tuesday showing that both Israelis and Palestinian Arabs want a two-state solution - but without US involvement.
Just 41% of Israelis surveyed believed that Israel is obligated to accept a two-state solution brokered through the US, down from 52% at the beginning of President Barack Obama's term. 43% believe that Israel must reject a two-state solution even if there is pressure from the United States to accept a deal.
Among Palestinian Arabs, the decrease is more dramatic: only 36% are ready to accept a two-state solution under US pressure, down from 47% at the beginning of Obama's term.
The objection is only to US involvement, however; both sides support the two-state solution itself, the poll reveals. The percentage who support a two-state solution remains stable and high on both sides - 63% of Israelis and 53% of Palestinians.
The survey also found that in light of the ongoing American involvement in talks, 39% of Israelis think that this involvement will succeed and 29% of Israelis think that US involvement will fail. At the beginning of Obama's term, the numbers held at 42% and 30%, respectively.  
Interestingly, the poll was conducted differently for Israelis and for PA respondents. The poll's Israeli sample included 601 respondents, who were interviewed via telephone in Hebrew, Arabic and Russian from December 12-21, 2013; the margin of error is 4.5%. The Palestinian Arab sample included 1270 respondents interviewed in person in Gaza, PA-controlled areas of Judea and Samaria, and Jerusalem, from December 13-16. The margin of error is 3%. It is unclear why the methods for interview were so different - or why the PA respondents outnumbered the Israeli respondents by a ratio of 2:1.
The results also contradict somewhat with a November Walla! report which revealed that over half of Israelis believe Israel should reduce its dependency on the US, or even break away from the diplomatic relationship entirely. The report revealed a conflict between reality and belief, showing that while over 50% of Israelis wanted to reduce Israeli dependence on the US, and 45% "did not trust" the US, at least 70% believed that finding a different Western ally would be very unlikely. 
Tuesday's results follow a slew of reports revealing immense pressure from the US regarding talks, with reports that US Secretary of State John Kerry is going to force a deal upon Israel and the PA - despite both sides being reluctant to accept a deal. Kerry is returning to the region this week to advance the US plan.