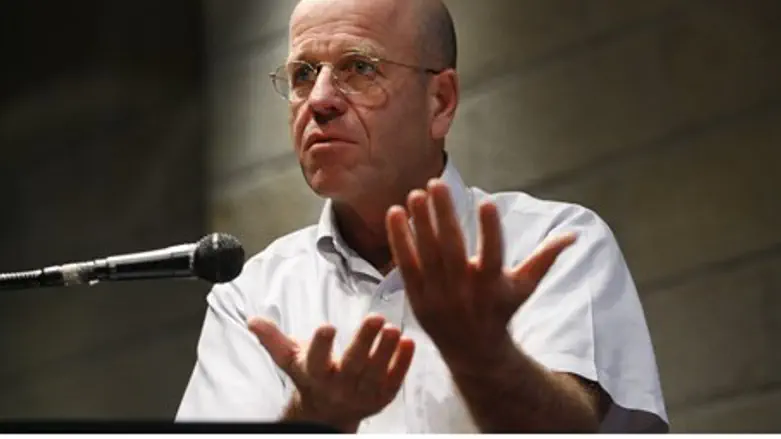 Avraham Burg
Israel news photo: Flash 90
The Land of Israel Legal Forum has demanded that Former Knesset Speaker Avraham Burg be investigated on suspicion of treason.
Burg was Knesset Speaker from 1999 to 2003 with the Labor party. The calls to investigate him come after a recent statement, in which he said: "Enough ambiguity – Israel has nuclear and chemical weapons, and we need to have an open, bold public debate about it."
According to Maariv, the Legal Forum sent a letter to the State Prosecution and to police calling to investigate Burg.
The Forum argued that during Burg's years as the Knesset Speaker and as a member of the Foreign Affairs and Defense Committee, he was exposed to Israeli state secrets. "Now he is deciding unilaterally to reveal Israel's nuclear and chemical capabilities to the enemy, and the world, and even encouraged other Members of Knesset to do the same," the group argued.
Israel has traditionally maintained a policy of nuclear ambiguity.
Burg is reportedly expected to head a conference in the near future which will discuss Israel's alleged nuclear and chemical weapons.
Burg was a member of the left-wing Peace Now group before entering Knesset. During his term as Knesset Speaker, he angered colleagues by agreeing to appear before the Palestinian Authority legislature in Ramallah despite objections from then-Prime Minister Ariel Sharon.
After leaving the Knesset, Burg published an article warning, "The Zionist Dream is Doomed" in which he slammed Israel as "a state of settlements, run by an amoral clique of corrupt lawbreakers."
He has encouraged initiatives to boycott Israeli products made in Judea and Samaria, arguing, "It is not anti-Semitic and not anti-Israeli…. The settlers, the conquerors and their political allies – including Benjamin Netanyahu, the Prime Minister of Israel – are the real enemies of Israel's future."