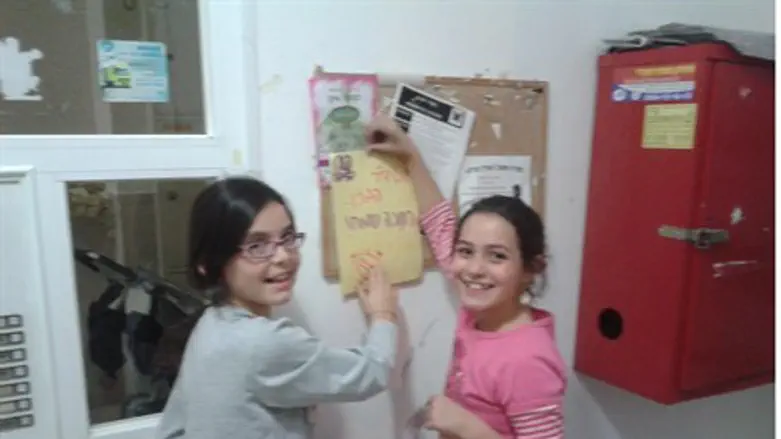 Girls deliver Hannukah greeting in Beit Sheme
Courtesy of Ariel youth movement
Local girls in the city of Beit Shemesh have decided to make Hannukah an opportunity to spread goodwill and unity.
The girls, members of the Ariel youth group in Ramat Beit Shemesh, created hundreds of greeting cards, which they distributed around the city. They also hung signs saying, "Happy Hannukah" in central areas.
"We wanted to bring light and unity to the city, and Hannukah is the best time for it," participants explained.
Teenage members of Ariel took part in gathering food donations for needy families in honor of the holiday.
The pro-unity gesture comes as the city faces renewed tensions over potential new elections. The Attorney General has called to hold repeat elections in the wake of fraud allegations – a call that has angered hareidi politicians, who have accused the Attorney General of playing politics.
Haifa Girls Honor Fallen Hero
Meanwhile, in Haifa, girls' youth groups spread Hannukah cheer in honor of Elad Riven, who died at the age of 16 in the line of duty as a volunteer firefighter.
Girls from the Amit High School met with Elad's mother, Tzviya, who spoke of her son's strong commitment to volunteerism and giving to the community.
After the meeting, the girls went to preschools, nursing homes, hospitals, and care centers across the city. Among their activities were distributing doughnuts – a traditional Hannukah treat – to children at Bnei Tzion hospital, and assisting children with special needs in preparing Hannukah projects.