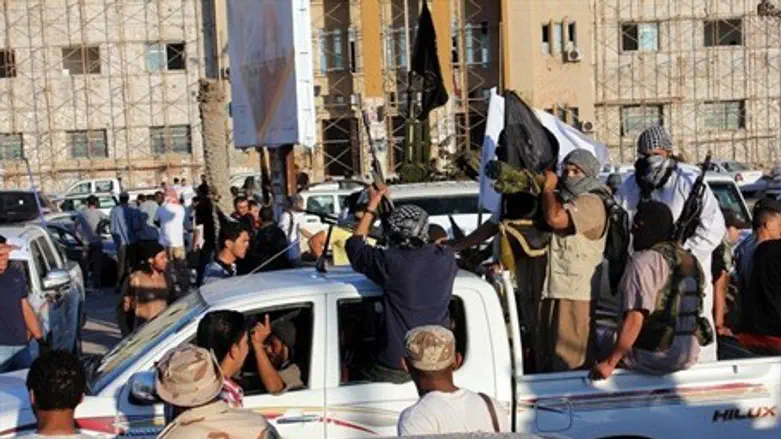 Libyan militias in Benghazi, 2012
AFP/File
At least three people have been killed Monday in clashes between the Libyan army and members of Ansar al-Sharia, the Islamist militia suspected in the murder of US Ambassador Christopher Stevens last year. The fighting is currently taking place in Libya's second city of Benghazi - the same place where the ambassador was killed along with three others at the US Consulate.
Ansar al-Sharia is a coalition of Salafi and other Islamist fighters which calls for the implementation of Sharia (Islamic law) throughout Libya. The name "Ansar al-Sharia" (literally "Partisans of Islamic Law") is a label commonly adopted by groups with similar ambitions elsewhere in the Muslim world.
Reports suggest casualties on both sides of the fighting, and witnesses reported hearing gunfire and seeing smoke rising from parts of the city since the early hours of the morning.
The fighting comes amid growing tension between the Libyan central government and an array of independent militias which previously fought against the regime of Muammar Qaddafi as part of the Libyan rebel movement.
Since Qaddafi's ouster in 2011, many of the various militias who took part in the civil war have refused to disarm, posing a serious challenge to Libya's weak central government, which has repeatedly called on them to disband in favor of the country's fledgling army.
Two years later, independent militias still control large part of the North African country and regularly fight each other.
A series of clashes in the Libyan capital killed dozens and wounded hundreds more last week, although tensions there appeared to cool after a number of militias agreed to surrender their bases to government forces.