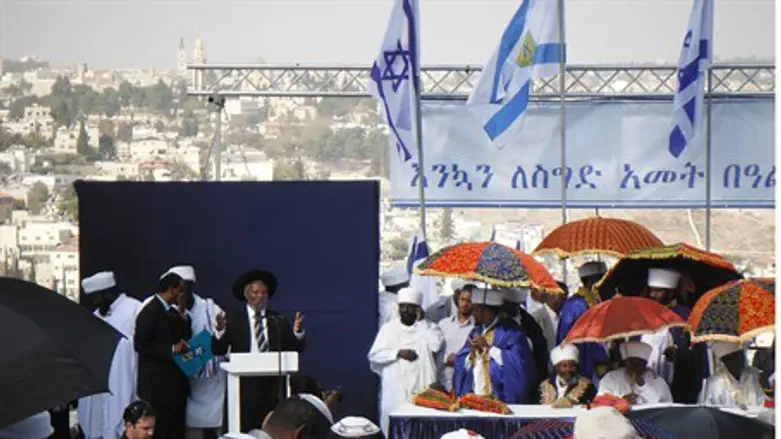 Jewish Ethiopian holiday of Sigd
Ben Bresky
Thousands attended the central ceremony for the holiday of Sigd in Jerusalem on Thursday morning. The day is normally celebrated on the 29th of the Hebrew month of Cheshvan, 50 days after Yom Kippur, but this year was brought forward so as not to conflict with Shabbat. It took place at the Haas Promenade, known as the tayelet, in the Armon Hanatziv neighborhood of Jerusalem. The hilltop park has a panoramic view of the Old City, significant for the day. A fast lasts from morning until afternoon at the completion of the prayer service. 
Following the service, many leaders in the Jewish Ethiopian community spoke including Ethiopian Chief Rabbi Yosef Hadane and others. Also addressing the crowd was Sephardic Chief Rabbi Yitzchak Yosef, who discuss his father, former Chief Rabbi Ovadia Yosef, who recently passed away. In 1973, the elder Rabbi Yosef ruled that the Beta Israel community of Ethiopia were Jewish according to Halacha (Jewish law) and should be allowed unrestricted immigration into Israel.
Also speaking was Jerusalem mayor Nir Barkat, Member of Knesset Ofir Akunis (Likud - Yisrael Beiteinu), and Immigration Minister Sofa Landver (Likud - Yisrael Beyteinu). The Russian-born Minister Landver has attended numerous Sigd ceremonies and spoke warmly of the holiday and its message of returning to the Land of Israel from foreign lands. 
Sigd is based upon the events related in the Book of Nehemiah chapter 8 and 9, in which the Biblical prophets Ezra and Nehemiah led the Jewish people out of Babylonian exile and back into the Land of Israel. The Beta Israel community of Ethiopia kept this tradition in Ethiopia and it has special significance in Israel as part of the community's own exodus to the modern State of Israel.
In addition to the religious services, numerous high school students and youth groups attended to learn about the holiday and the community. Shoshana Ben Dor, the Israeli director of the North American Conference on Ethiopian Jewry hosted a tent to teach the language of Ge'ez, which is which is analogous to Aramaic. Other tents and stands were set up to teach with books on Operation Moses and the Ethiopian aliyah, and social programs for youth and immigrants. 
Sigd became an official state holiday in 2010. Some historical evidence suggests that at one point in time all Jewish people celebrated Sigd but only the Ethiopian community kept it. Other holidays such as the Moroccan Mimouna and the Kurdish Seharane are also celebrated by select Jewish communities. 
For last year's photo essay and podcast click here.
For a podcast from 2010 click here.
All photos by Ben Bresky.