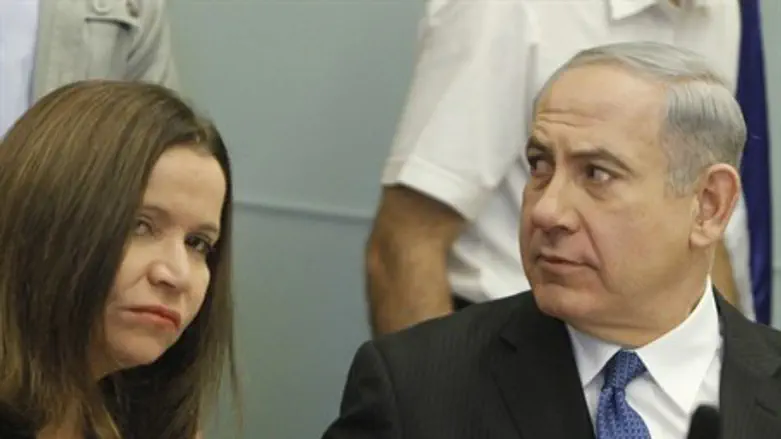 Netanyahu and Yachimovich
Flash 90
Opposition leader MK Shelly Yachimovich was critical of Prime Minister Binyamin Netanyahu's speech at the United Nations General Assembly on Tuesday, saying that he presented the correct facts but chose the wrong way to do it.
"We must not let it be implied among the international community as though the Iranian problem is exclusively an Israeli problem, and it is wrong to present a horrific vision of an existential threat to Israel," said Yachimovich.
"The future of the Jewish people and the future of the State of Israel will not be determined by the Iranians. The way to deal with Iran is through a U.S.-led international campaign and not by emphasizing Israel's isolation," she added.
"The U.S. must lead the efforts with the Iranians, a diplomatic effort accompanied by sanctions with all options on the table including the military option. I prefer the tone taken by the Prime Minister at the White House during his meeting with President Obama, who was explicit about the U.S. commitment to prevent Iran from obtaining nuclear weapons and who explicitly mentioned the military option," said Yachimovich.
In his speech, Netanyahu urged the world to maintain pressure on Iran over its nuclear program, saying that diplomacy can work, but only if the international community takes a firm stance.
If all else fails, he hinted, Israel may attack Iran without international support. "If Israel is forced to stand alone, Israel will stand alone," said Netanyahu.
MK Yachimovich also expressed her disappointment at the fact that Netanyahu only devoted a few words to the negotiations with the Palestinian Authority, saying that reaching a peace agreement "is critical and is a clear Zionist Israeli interest."
"The strategic importance of an agreement is unequivocal and the Prime Minister should have made more committed and explicit statements [on this issue]," she said.
Netanyahu in his speech laid out what he said are Israel's needs: that any future Palestinian state be demilitarized, and that the PA recognize Israel as a Jewish state.
Israelis have been willing to make "painful concessions" for peace, but Palestinian Authority leaders have not, he accused.