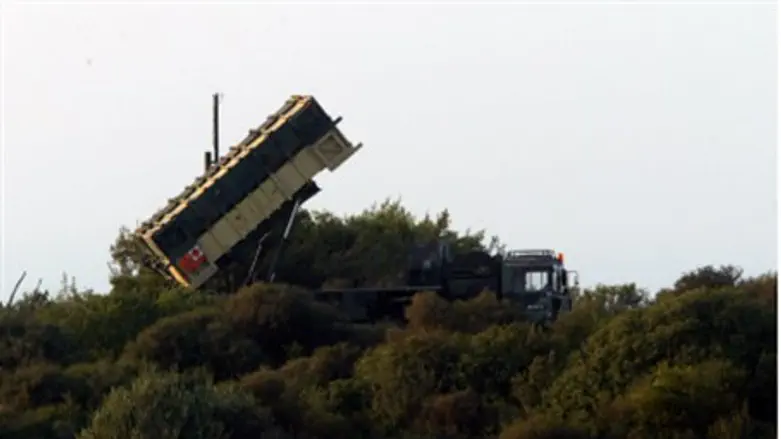 Patriot missile battery
Israel news photo: Flash 90
Jordan announced on Sunday the start of the "Eager Lion" military exercises with the participation of 8,000 soldiers from 19 Arab and Western countries, Al Arabiya reports.
Major General Awni el-Edwan, the Chief of Staff of Jordan's Armed Forces', said in a press conference held the military exercise will last until June 21 and will take place in Jordan's central and southern region.
Stressing that the drill is not linked to regional developments around Jordan, Edwan said that there the military exercise will not take place near the northern border with Syria.
Dismissing speculations that the Syrian rebel army might take part in the drill, Edwan said "only nations" were invited to participate, according to Al Arabiya.
Part of the military drill involves air exercises on how to control and reduce effects of chemical weapons on military units and civilians.
In the presence of Major General Robert G. Catalanotti of the U.S. Army Central Command, the Jordanian official said that F-16 fighters and Patriot missiles will be used in the drill but he didn't disclose how many of these fighters and missiles are brought to the kingdom.
"Our political leadership will decide if these weapons are to stay behind, we (the military) follow and execute orders," he said, according to Al Arabiya.
Reports last week indicated that the U.S. would send a Patriot missile battery and F-16 fighters to Jordan for the drill and may keep the weapons there to counter the threat posed by Syria's civil war.
United States officials later confirmed that the weapons deployed to Jordan for the Eager Lion military exercises may be kept in the country longer.
A decision on this, the officials said, would be made "in consultation of the government of Jordan."
A well-informed Jordanian source told Al Arabiya on Sunday that the government will officially ask Washington to keep the Patriot missiles in the Kingdom after the exercises.
Meanwhile, U.S. Major General Catalanotti said that there will be 4,500 U.S. troops that will participate in the military exercises.
The United States backed earlier this year in Turkey a move which saw the NATO alliance deploying Patriot missile batteries along Turkey's volatile border with Syria.
That move was condemned by Syria, which said that Turkey's plans to deploy Patriot missiles along its border are "a new act of provocation."