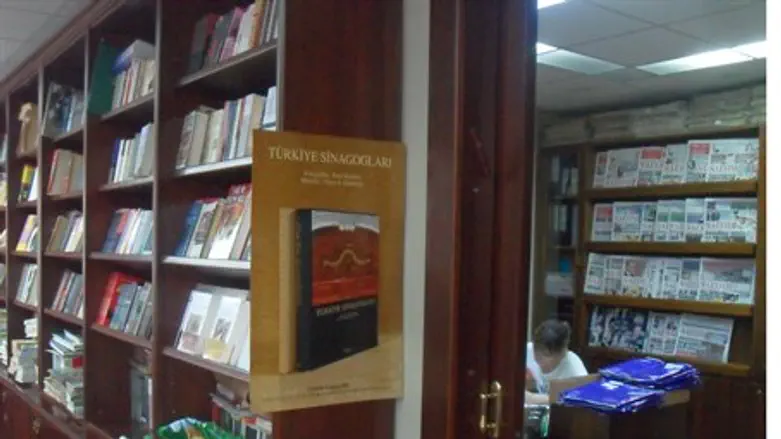 Offices of El Amaneser, Istanbul
Israel news photo: Hana Julian
Istanbul's Sephardic Center has just produced the 100th issue of the world's only Ladino monthly newspaper – El Amaneser -- in the heart of the ancient Turkish city.
It's a breathtaking event in more ways than one, the centuries-old language flourishing anew among the Ottoman-era edifices.
Not far from the site of nightly protests against the Turkish government, the center's offices are hidden away behind locked steel gates and numerous other security measures.
That any periodical could still be regularly produced in Ladino at all is a miracle. Most linguists today are entirely unfamiliar with the graceful Sephardic language that serves as the Sephardic equivalent to Yiddish.
But there's more: the center is a veritable treasure house of information about Turkey's Jewish community and its cultural heritage. 
Its director is an energetic woman with sparkling eyes who doesn't stop moving. Karen G. Sarhon is a warm Turkish Jew who speaks fluent English and knows everything about anything. She also can share the best Turkish Jewish recipes on the planet. The place, like its boss, was abuzz with activity both times we arrived for our visit. On the second round, the patient and equally energetic Emel was kind enough to answer every question that was asked. 
The visits had to be arranged, of course: entering the building is not possible without first making one's presence known – and verified – to the center, and to the very polite, smiling security guard at the door. The nondescript elevator beyond his desk could not be reached, however, without first passing his muster. Arrangements for Arutz Sheva were made by aides to Islamic scholar and interfaith activist Adnan Oktar. His personal staff members accompanied me for safety's sake on both occasions – including one visit that took place actually during last week's protests – and were welcomed and clearly known to the staff at the center.
The weekly Shalom Gazette newspaper is also produced there, with a monthly column written by former Haifa University professor Denis Ojalvo. There is also a multi-lingual bookstore as well. Need to find an Israeli book translated into Turkish? This is the place, and you are likely to find translations in French, Ladino, and English.... and yes, holy books in Hebrew as well.     
"Jews in the Islamic World," by Bernard Lewis has been translated into Turkish. So has "The New Middle East" by Israeli President Shimon Peres, a biography of PLO Chairman Yasser Arafat, the book "Mossad," and the series "Me'am Lo'ez." Even books on Kafka, Hitler, the Nazis and a biography of the actress Sarah Bernhardt.
The center is currently engaged in creating a Ladino-Turkish / Turkish-Ladino dictionary, the world's first. And if you need an ornamental mezuzah bayit (mezuzah cover), a menorah or a natla (ritual hand washing cup) from Israel, this is the place to go. But you'd never know it from passing the building and therein lies its survival, and safety, at least for now.