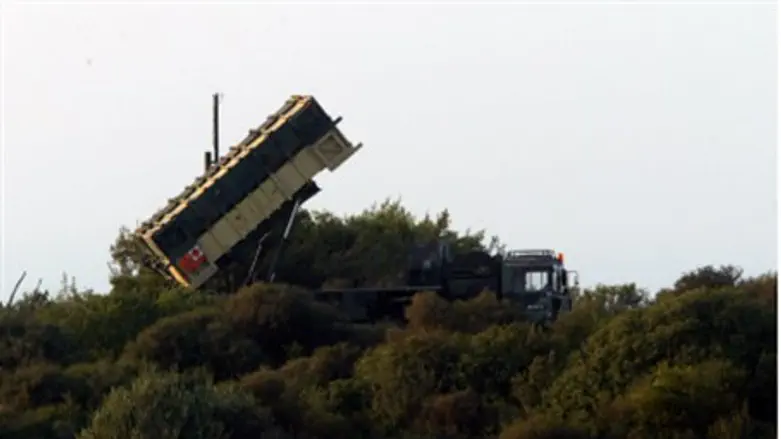 Patriot missile battery
Israel news photo: Flash 90
United States officials confirmed on Tuesday that Patriot missiles and F-16 fighter jets that are being deployed to Jordan for the Eager Lion military exercises this month may be kept in the country longer.
There was no official statement suggesting the Patriots or the fighter jets would be withdrawn when the exercises are over and U.S. officials left open the possibility they could remain in place.
"We will consider extending the deployment of assets associated with Eager Lion in consultation of the government of Jordan," one official told Reuters.
The Eager Lion exercises, held annually with a theme of irregular warfare, will include more than 8,000 service members from about 19 countries, another U.S. official told Reuters.
Leaving the Patriot batteries in Jordan would allow to counter the threat posed by Syria's civil war. The United States backed earlier this year in Turkey a move which saw the NATO alliance deploying Patriot missile batteries along Turkey's volatile border with Syria.
That move was condemned by Syria, which said that Turkey's plans to deploy Patriot missiles along its border are "a new act of provocation."
Syria's ally Iran also condemned the move, claiming that the deployment of Patriot missiles in Turkey is designed to protect Israel from Iranian threats.
President Barack Obama has been under pressure to act in Syria, particularly in the wake of growing evidence that chemical weapons were used in the conflict. In the past, Obama warned that use of chemical weapons by Bashar Al-Assad's regime would cross a red line.
To date, President Obama has only committed non-lethal aid, despite lawmakers' calls for more forceful action from the U.S. as the civil war in Syria intensifies and threatens neighboring countries.
A report last week indicated that the White House has asked the Pentagon to draw up plans for a no-fly zone inside Syria that would be enforced by the U.S. and other countries such as France and Great Britain.